In this series of artworks, 27-year-old Taqwa depicts the dangers of irregular onward movement and the physical violence that victims of trafficking are subjected to.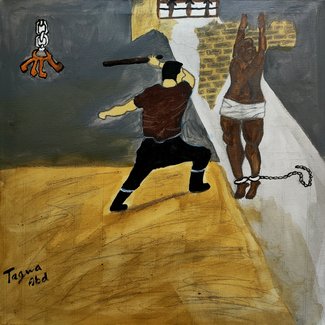 Name: Martyred for their dreams
Description: The author depicts the untold horrors of physical violence that victims of trafficking are subjected to and their loved ones forced to pay ransoms in order to secure freedom. Thousands are maimed while others are left with lifelong injuries that leave permanent physical and psychological scars.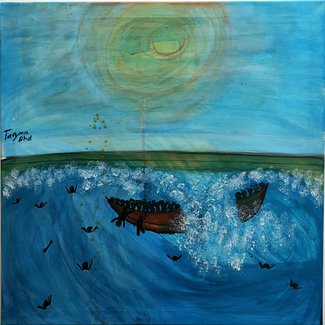 Name: The sea that swallows hope
Description: The author depicts how the Mediterranean Sea is unforgiving and claims thousands of lives every year when people are forced to make journeys in unseaworthy and overloaded vessels.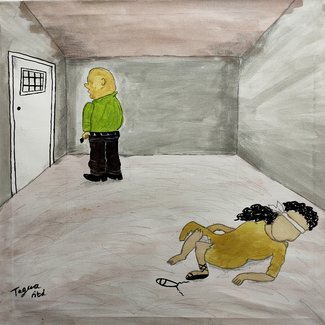 Name: The tears that never dry
Description: Women and girls are subjected to sexual violence and abuse while in captivity. Others are treated as sex slaves leading to unwanted pregnancies, sexually transmitted diseases, and HIV/AIDS. The psychological effects are far-reaching, resulting in mental health problems that take long to heal or even lead some to suicide.
27-year-old Taqwa from Kassala state, graduated from Omdurman Al-Ahly University, Department of Communication Sciences and Public Relations. She is a member of an art group called Talent from the Inside. She has been doing art since High School. She likes drawing portraits and painting nature.
Taqwa has participated in exhibitions organized by her group and those done after attending TOT courses. She has painted murals on peaceful coexistence and health awareness in primary schools and hospitals in Kassala State. She has also participated in courses on NGO Management, digital media, and nursing.