28-year-old Halima Musa Hamed depicts the various forms of modern-day slavery and how they intertwine with smuggling and trafficking in her series of artwork.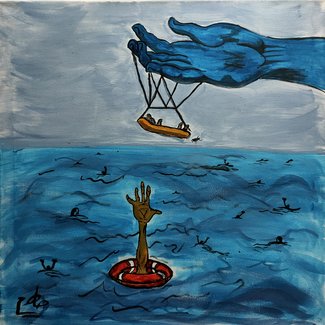 Name: Sea of treachery
Description: Thousands of people put their lives at risk when they engage the services of traffickers, who disguise themselves as smugglers. With their eyes set on destination countries, they put their lives in the hands of the sea, with the hope that they will make it safely. Many never make it.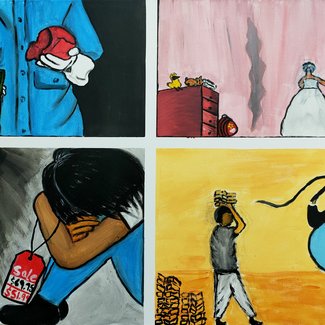 Name: The different faces of evil
Description: The author personifies the crime of human trafficking and depicts various forms of trafficking that include organ trafficking, forced marriages, modern-day slavery, and forced labor.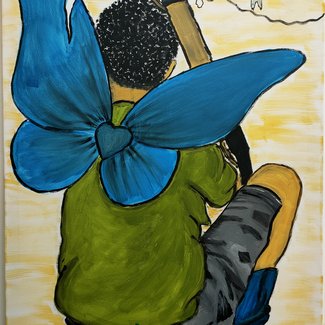 Name: Dreams of the armed butterfly
Description: Many trafficked children are forced to take up arms as rebels or militia or work for organized criminal networks that are often engaged in other forms of trafficking. Living in fragile contexts and denied of their childhood, including opportunities to access education, all they can do is dream, as they battle so many challenges and dangers where they are treated as expendables and sent to the frontlines.
Halima is a student at the Faculty of Medicine and Health Sciences of Kassala University. She is passionate about drawing, especially portraiture, having started in 2017 and her family has been very supportive of her creative endeavors. She initially joined a group of artists called Talent from The Inside and contributed to the groups' development significantly. She is a member of the Union of Plastic Artists in Kassala.
Halima has participated in several voluntary works, that include doing awareness murals throughout the Kassala state, in Primary schools, universities, and Hospitals. She has participated in exhibitions such as the Special exhibition of Talent from The Inside, the Treat exhibition, the youth entertainment program, and SMAfrica exhibition.
She holds a TOT certificate and a certificate in NGO Management, Peacebuilding, and Nonviolence.
She aspires to leave a fingerprint in the hearts of the people that she touches through art.