In this series of artworks, 23-year-old Fadwa depicts the false promises by smugglers and traffickers motivated by greed.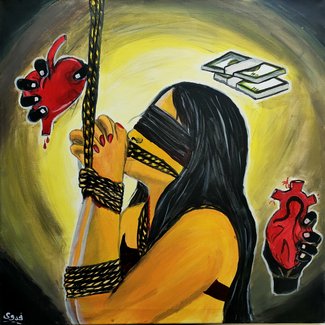 Name: Stealing a piece of me
Description: The author depicts how insatiable greed for money propels traffickers to exploit their victims, leading to lifelong health problems, disability, and in many cases- death.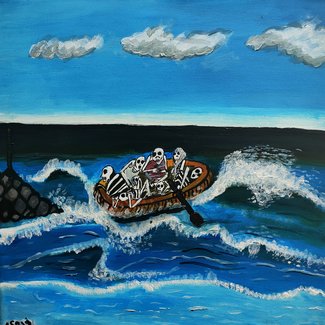 Name: The tragic end
Description: The author vividly demonstrates in this artwork that despite the best-laid plans, and even when one has money, many will not reach their destinations alive.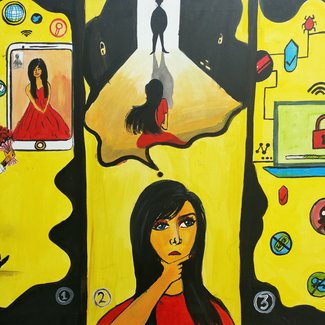 Name: Fake show
Description: The author sheds light on fake marriages, a tactic used by traffickers who make promises of marriage and fairy-tale wedding bliss, to lure young girls and women. With advancements in technology and the proliferation of social messaging apps and tools, traffickers use deception to spread their lies and recruit unsuspecting individuals.
23-year-old Fadwa is a student at the Kassala University, Faculty of Economics and Administrative Sciences. She started drawing at an early age as a hobby, but her interest developed in high school when she studied art as one of the specialty subjects and acquired more skills and knowledge with different techniques and methodologies. She likes portraiture and graphics and uses charcoal and acrylic in her works. In her free time, she engages in sports and meditation.
To her, art is a vessel that transports her to another world, taking her away from all the pressures of life, and helps her relax and focus. She aspires to become one of the best artists in the world and believes that there are no limits to her ambitions.
Inspiration for artworks:
Fadwa says that the ideas didn't come easily and she had to do a lot of research on the issue of human smuggling and trafficking so that she could depict the realities of the experiences of refugees, asylum seekers, and migrants. She says she wanted to show this clearly and boldly while ensuring that the message is communicated simply.