In this artwork, Habib understands loss having lost friends to the Mediterranean Sea. In this artwork, he depicts the lures and misinformation by smugglers and traffickers who do not divulge that the journey may lead to death.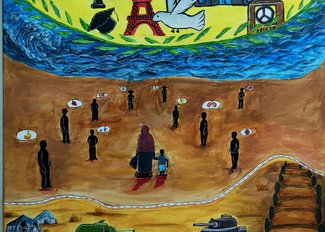 Name: Time to reflect
Description: Having lost friends in the Mediterranean Sea, the author shares his vision of the motivations behind these journeys, and the risks that asylum seekers and refugees face when making these perilous journeys in the hands of traffickers who all have different goals and ways of exploiting their victims.