In this series of artworks, 23-year-old Al Haris depicts how in the quest for a better life, refugees and migrants can be lured by false promises leading them to embark on dangerous journeys.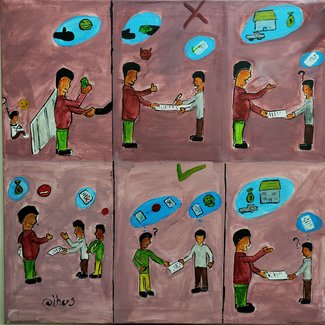 Name: Do not fall into the trap
Description: The author, through this artwork, encourages people to be careful about the different tactics employed by smugglers who disguise themselves as job recruiters. People are called upon to carefully go through job contracts, carry out background checks, and gather information on the places of work and consult experts in the field.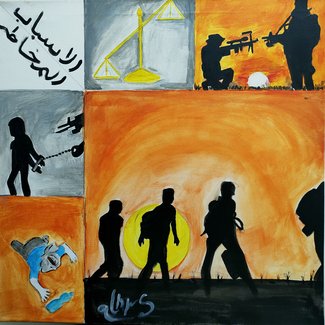 Name: Salvation Path
Description: The author gave this painting the ironic name since it portrays what many migrants, asylum seekers, and refugees think about moving onwards irregularly in their quest for a better life, away from crises and hardships like lack of basic needs. Unfortunately, for many, it becomes a path to slavery when traffickers recruit, detain, and exploit them.
23-year-old Al Haris is a Physics & Mathematics student at the University of Kassala, Faculty of Education. He started making art in college and is passionate about portraiture, anime, fantasy, and still life. He has painted murals during World Tourism Day, murals on peaceful coexistence, disease prevention, and control.