In this artwork, Al Sarah depicts the dangers that refugees and asylum seekers endure to reach safety and have a better life.
She also partners with Fatima Adam to depict the importance of awareness-raising.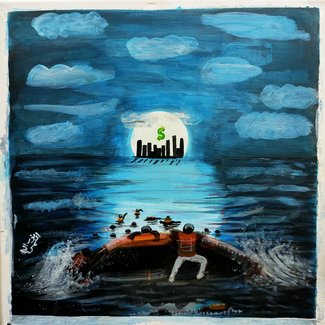 Name: Between life and death
Description: Many refugees, asylum seekers, and migrants strongly believe that their hope for a secure future lies in the destination countries of Europe, where there is the promise of money and jobs. Unfortunately, many fall into the hands of traffickers who put them in overloaded and unseaworthy boats and dinghies, that either stall or capsize, finding themselves between life and death.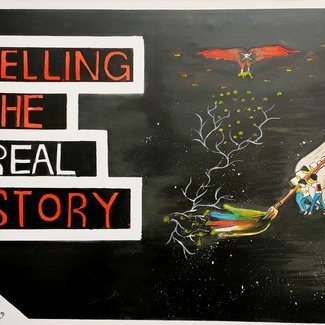 Name: The Light of Hope
Description: This painting depicts the critical role that the UNHCR's Telling the Real Story plays in empowering people with knowledge and information on the dangers of smuggling and trafficking, which is key in tackling of these crimes.