In this artwork, 21 year old Mohammad depicts the dangers at sea when many are placed on unseaworthy vessels.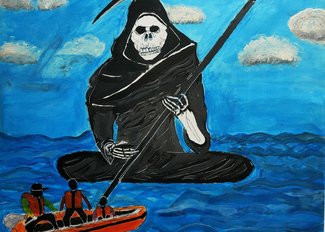 Name: Killer of hope
Description: Drawing inspiration from urban legends and religion, the author depicts the terrible and inevitable fate that meets many who take perilous sea journeys in the hope of reaching better and stable lives across the Mediterranean Sea.
Mohammad is a student at Kassala University College of Education, in East Sudan. He is a self-taught artist, having started in late 2018. He loves pop art, anime, and portraiture. He says that art requires patience, practice, and support from other like-minded people.
He has done murals to educate the public about disease prevention, peaceful coexistence, unity, and diversity. His work on health focused on TB prevention and treatment.
Mohammad says his involvement in such initiatives gives him a lot of gratification as he feels he is making a tangible impact in the community through his hobbies.
Inspiration for artworks:
Mohammad says that the workshop conducted by Telling the Real Story on smuggling and trafficking provided him with the insight that made it easy for him to do his work.
He says the videos they watched during the workshop and the information that was shared helped him come up with artwork that is easy to understand.