In this series of artworks, 24 year old Asaad depicts how human beings are sold, bought and traded much like goods by smugglers and traffickers.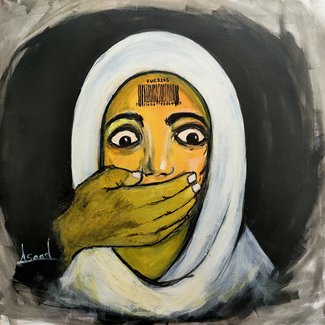 Name: The death trade
Description: Women and girls are particularly at risk of human trafficking. Many are sold into slavery, where they are exploited and treated as merchandise to enrich the criminals. Modern-day slavery dehumanizes, kills dreams, kills hope, and even the desire to live.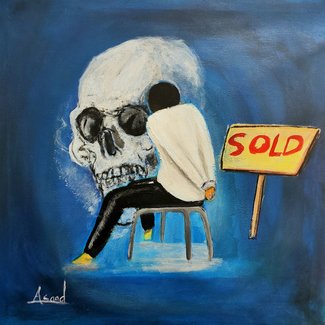 Name: Unknown fate
Description: The author depicts the uncertainty and horrors that victims of trafficking face when they are bought and sold by traffickers. With exploitation taking so many forms, it is difficult to ascertain the fate of those in the hands of traffickers. Many of these people disappear without a trace.
24-year-old Asaad is a student at Kassala University's College of Engineering and is a member of an art group called Talent from The Inside. He started doing art from an early age and says that art for him is therapeutic, a source of calmness, and helps him release any negative energies.
He has participated in many exhibitions and festivals, including the Special exhibition of Talent from the inside, TEDx conference, the SMAfrica conference, the Treat Festival, and Final Exhibition of Training of Trainers (TOT) Course.
He has participated in painting murals on peaceful coexistence and disease awareness in many Primary schools and Universities and Libraries and at hospitals in the State. He holds a certificate in TOT & a certificate from Union of Fine artists in Kassala. His interests are in portraiture as it reflects feelings and captures details. He also loves anime drawing.
Asaad says he wanted to touch people by creating artworks that are easy to understand but also those that make people reflect on the dangers of irregular movement. He says while it is true that people want a better life, there is untold suffering out there.