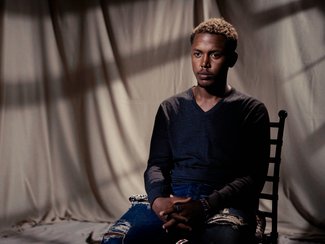 Matius' story
Again and again, Matius has been forced to run from danger. At only 16, he has nearly drowned at sea, watched as an armed group killed his father, been smuggled across borders and been tortured by traffickers. Now Matius, born in Eritrea, is seeking asylum in Tunisia, where he hopes he can finally rest.
"Once you enter (Libya), there's beatings, many lice, itching disease. There's thirst and you don't eat," Matius says.
According to analysis conducted by UNICEF and UN International Organisation of Migration (IOM) an increasing number of children are making dangerous journeys by themselves along the Central Mediterranean Sea route fleeing violence, poverty and hoping to reach safety in Europe. The route, which goes to and through Libya and onwards by sea to Europe, is one of the deadliest of these journeys where children are at a particular high risk of trafficking and exploitation. Over the recent years, there has been a concerning steady increase in the number of people reported dead and missing at sea - 1,496 in 2021 up from 955 in 2020 and 754 in 2019. An unknown number has perished crossing the Sahara Desert.
Matius' family fled Eritrea to Khartoum, Sudan when he was a child. He has no recollection of his birth country other the stories told by his mother. Like other Eritreans who arrived through the East of Sudan Matius's family was smuggled directly to Khartoum and did not have the opportunity to register in the refugee camps in Eastern Sudan as is the requirement. Because they were unregistered, Matius's parents could not obtain identification documents and therefore could not work. Matius and his sister could not go to school. The family, and many others like them experienced harassment, sporadic roundups, detention, exploitation, and violence from Sudanese authorities.
"We were just like the wind," he says. "We didn't have anything."
Unable to make ends meet and short of options, Matius's parents turned to smugglers, hoping to reach Libya and then cross the Mediterranean Sea to Europe.
They traversed the scorching desert for eight days aboard the smugglers' cars before reaching Kufra, Libya, where many refugees and migrants from the East Horn of Africa and Chad have endured violence. Many have died.
"We were starving. We faced thirst in the Sahara. People were panicking in the car, and everybody was so weak" Matius says
In Kufra, they were placed in a warehouse before starting the journey north towards Libya's coastal town of Al Garbuli. After two weeks, they travelled to the seashore. When the group split up to make the drive in three trucks, Matius's sister became separated from her family. Before they arrived, the groups were ambushed. Unidentified people shot at them. In the chaos that ensued, Matius was separated from his mother and he saw his father shot and killed in front of him.
"I entered another world; you just see darkness,." he says.
An older man came to Matius' aid, guiding him through the chaos and back to the warehouse. In the morning, news reached them that the first boat, which had carried his sister, had reached Italy. Matius went back to the shore, reuniting with his mother and telling her of his father's death.
"She screamed, 'No, that can't be. It is better to go back! Maybe I can make something work in Sudan. This is where I lost my husband and I do not want to lose my children too'," he says.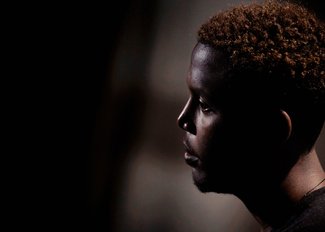 Back in Sudan, Matius and his mother stayed with a family friend. His mother took on odd jobs selling tea by the roadside where police officers constantly harassed her.
Matius witnessed this harassment against his mother and decided to leave Sudan, again making the journey across the desert to Libya in hopes of reaching Europe. Once in Libya, and again at the mercy of traffickers, he survived a car crash and was tortured for days. He finally managed to escape and spent three months in a hospital run by Medecins sans Frontieres, unable to walk.
"Libya….you can call it hell."
A UNICEF and IOM analysis revealed that adolescents with no education are at a higher risk of facing exploitation in Libya compared with those with secondary education. Additionally, children travelling alone more than doubles the risk of exploitation compared to those traveling in groups or family.
After the hospital, Matius was moved to the Qasr Bin Gashir detention centre in Tripoli. One day, a fight ensued between the guards and detainees that resulted in a shootout that led to the death of many detainees. Following the incident, Matius and other detainees were moved to the notorious al-Nasr Detention Center in Zawiyah,was dubbed the "Osama Prison" named after its manager.
"I mean it was, the worst detention. You could call it a cemetery."
Matius escaped. He worked odd jobs in Tripoli for three months to save money for the sea journey to Europe. Once he had enough to pay the smugglers, he boarded a crowded and unsafe boat. After three harrowing days without food, the boat began to leak was forced to land in Tunisia, where Matius sought asylum.
Matius is gradually recovering from the physical and psychological trauma he experienced in Libya He is receiving medical assistance in Tunisia and continues to see a psychologist on a regular basis. He also engages in UNHCR-sponsored group therapy activities with other children.
He worries about his mother in Sudan, who has diabetes and hypertension. He is terrified she might die. Despite this, he hopes for stability in his life and for his family to be together one day.
"If I could be able to have a family, to buy a house, a place of my own…that's what I think is the best."

ENDS