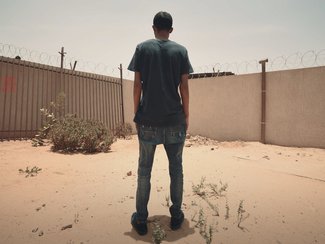 Aziz's Story
Aziz flees from Eritrea to Khartoum, his brother dies in the Sahara, he stays on in Khartoum because of his brother's death, he finally undertakes the journey to Libya, he is caught by some Libyan authorities and threatened with deportation back to Eritrea, and he is finally evacuated by UNHCR to Niger where he is waiting for re settlement.
"You just have to put your trust in God and your own luck when you start the journey. It's all in God's hands. It is difficult to trust anyone. We knew about everything before we started the journey. In the Sahara desert there is no water." says Aziz.
"When we were caught we were told we would be deported and I was very sad and wanted to die" he recalls.

"When I heard about the deportation I remembered all the difficulties I had passed through. But after I was released through UNHCR, I felt happy and rejoiced because I knew my life was protected and my future would be better. I know about UNHCR through some media such as BBC. They help refugees."