Resettled refugee artist finds safety and inspiration in Italy
When Kiflom Meles moved to Bologna, in northern Italy, two years ago, he discovered a new world of artistic inspiration, which he captures with oils on canvas. Surrounded by the city's ancient towers and historic buildings, Kiflom's subject-matter has changed since being relocated from the Horn of Africa, but his skills and enthusiasm remain constant.
"I started to paint when I was a kid," says the 32-year-old Eritrean.
"My father encouraged and motivated me saying, 'You're an artist. Keep going!' From then on, I knew I had that talent in me, and step-by-step I learned painting."
When Kiflom fled oppression in Eritrea in 2015 and made his way to the Ethiopian capital Addis Ababa, he continued painting whenever he could. "For me, painting is a way of expressing emotions," he says.
In Ethiopia, Kiflom was fortunate to find work as an internet service manager for Jesuit Refugee Service, a Catholic charity, helping provide internet access and online courses for fellow refugees. In his spare time, Kiflom would paint.
Realising how much art helped him to process and overcome the daily stresses of refugee life, he got involved in art therapy, helping refugees to, "use their time well, trying to explore their talents and raise their awareness."
"It had a positive impact," he says, for the refugees he worked with, and for Kiflom himself. "For me, art therapy is satisfying, because I'm a refugee. But at the same time I'm working with refugees and helping them."
"It's not easy, but helping others is a good thing. So, I can say that's my biggest contribution when I was in Ethiopia."
Like many other refugees, Kiflom thought about trying to reach Europe through smuggling networks, but unlike the thousands who make the risky journey via Libya every year, he decided against it. "Some people had told me it was safe, and that if I wanted to go I should let them know… you just pay some money and you can reach Europe easily."
He realised these stories were false after hearing from refugee organisations warning of the dangers of kidnapping, detention, abuse, torture, murder, and drowning. "The smugglers encourage people, they push people in order to get money," Kiflom says.
So he waited, and painted. "One should be patient," he says. "I preferred to look for another opportunity rather than taking risks."
Others Kiflom knew put themselves in the hands of smugglers, enduring terrible conditions and horrific mistreatment, especially in Libya. "I have friends who went to Libya. I see it was a hard experience because when they talk about it, they repeat that they don't want to remember, and they don't want to hear the word Libya, so you can understand that the journey is too dangerous."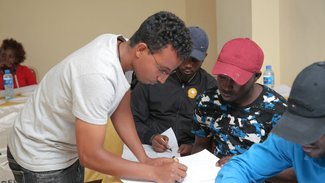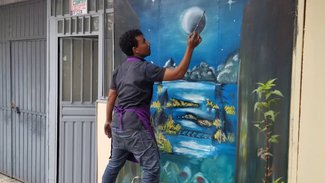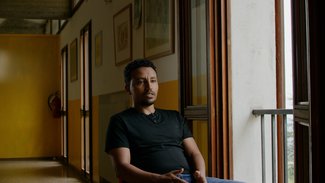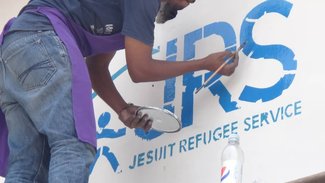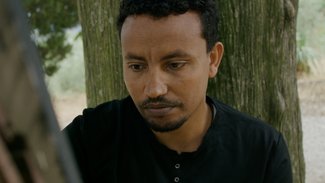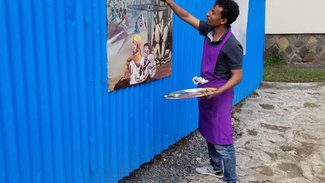 Eventually, Kiflom's patience paid off and he was selected by the Humanitarian Corridors, a resettlement programme run by Italian religious organisations, whose life-saving work was recognised with a regional UNHCR Nansen Refugee Award in 2019. "I was able to resettle in a safe way," he says, "not like my brothers who went to Libya and had many problems."
On the day he left Ethiopia, Kiflom got on a bus with other refugees and went to the airport where they boarded a six-hour flight to Italy. The journey was simple, safe, fast, and legal. "When I reached Italy, I felt good. Many people sacrifice their lives trying to get here," he says.
In Bologna, Kiflom is learning to speak Italian, and is looking for employment. "In Italy, there is education and there is the opportunity to work," he says. And for Kiflom, there is another, fundamental benefit: "Italy is the home of art," he says.
ENDS