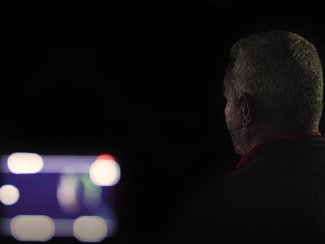 Ali: His worst fears were confirmed
Ali was suffering from economic and other problems in his native country Sudan and wanted to go abroad to improve his situation. Two friends were planning to go to Europe and asked Ali to join them. He hesitated because he knew the route through Libya and across the sea was dangerous. He stayed behind and the friends left. When they had reached Libya, they asked him to join them, and he changed his mind and left, travelling with many other people on a smuggler's pickup truck.
"We kept going all night long, resting then resuming our trek. At the beginning I kept track of the days but around the third day I lost track which day was which. We were in the desert and the winter season was approaching. I wasn't prepared with warm or winter clothes, so the situation was horrible."
He reached Tripoli and met with his friends, and they left for the beach from where the smugglers' boats leave. His friends wanted them all to travel together, but Ali persuaded them to go on separate boats. He had heard about boats capsizing and argued that if one of them died on the way, the others would survive to support his family. They agreed, and one of them left with the first boat. That boat was lost at sea. Ali boarded his boat with a sense of foreboding.
"I went on the second trip and as soon as I saw the boat I thought, if we manage to go 20 meters with it, that would be a gift from God. So how could it possibly carry us all the way, to go across a sea as big as the Mediterranean? But at that point it was like the point of no return. I couldn't go back from here. I had to board."
After just one hour, the engine failed, and they could not start it again. They were drifting for 12 hours until the Coast Guard rescued them and took them back to Tripoli, where they were put in a detention centre. Ali was released by his embassy and repatriated to Sudan. His initial doubts about travelling with smugglers had been confirmed.