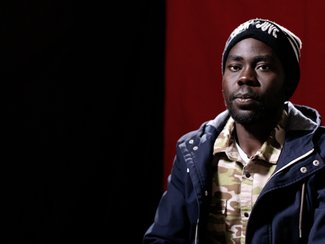 Seif: Digging for gold without pay
Seif was a student in Sudan when he and some friends decided to travel to Europe. They arranged the journey with a smuggler and left for Libya through Chad. The desert was a tough experience, there was little to eat and drink, and when they arrived in Libya, they were exhausted. There, they were kidnapped and forced to work without pay in the goldmines close to the border.
"We were working without getting paid, but we had no other choice. If you try to escape you might be shot and killed."
He managed to flee from there and spent some time in southern Libya but could not find work. Then he continued to Tripoli. There, he was arrested and put in jail. One day fighting erupted, the prison was bombed, and the prisoners escaped. He stayed in Tripoli and found odd jobs but was arrested and put in jail several times.
"That period was just one passage from prison to prison. We'd get out of jail, we'd go into another prison, and once again, we'd get out of jail, and then we'd go to another prison. Finally, we had no choice but to think about going to Europe."
His first attempt ended in failure. The boat was intercepted by the Libyan Coast Guard and he was yet again put in detention. When he was taken out of prison to work on a farm, he escaped and again contacted a smuggler. This time they were not stopped, but the sea journey turned into a nightmare.
"People had died, we had dead people on board. The boat was perforated. We didn't have fuel and the motor had stopped working. In the end, we became desperate."
Finally, a ship rescued them and took them to Malta. Having reached his goal, Seif discovered that Europe was not what he had expected. The dream of getting a good job and an education turned out to be an illusion.