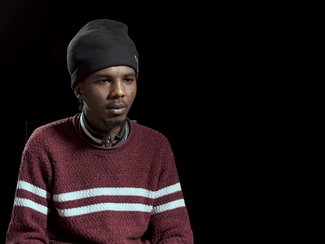 Mustafa: Tahriib has nothing but pain
Mustafa was born in Sudan but when he was a teenager, his family moved to Egypt. Soon after arriving there, he decided to try to get to Canada because he felt he had no future in Egypt. He and some friends arranged with a smuggler and they left on a boat from Alexandria.
"There were children, infants and babies, they were suffering, there were so many on board and the weather wasn't helping either. There was no drinkable water. We were suffering. The smugglers were beating us, insulting us."
The passengers were kept hidden under deck, but a police vessel stopped their boat and they were discovered. Some tried to escape by jumping into the sea, but they were caught and taken to shore. Mustafa spent some time in police custody and was then released. After this unhappy experience he resolved never to try to cross the sea again. But he was still thinking about going abroad. Another possibility was to travel through Libya, and Mustafa took the challenge. He again contacted a smuggler and was taken to the Libyan border. They had to walk across a mountain at night along a dangerous footpath.
"We climbed a mountain. We couldn't see anything, it was dark everywhere. You'd just stay behind someone who knows the road. I was walking with someone and he fell from the mountain. I just heard the scream. His leg got stuck under a stone and broke. If you fall you'll be left there."
They had almost reached the border when they were caught by the police. When he was back at home in Cairo, Mustafa felt he had had enough. Today he says he will never try to go on tahriib again. It has nothing but pain.