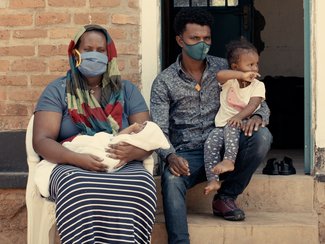 Love, despair, and hope, in search of a new start
As conflict raged around them, the situation appeared bleak for young parents Selam and Solomun, an Eritrean refugee couple trapped in Libya after being cheated by smugglers. Salvation came in the form of a UN Refugee Agency organised evacuation flight that rescues vulnerable refugees and asylum seekers from detention in Libya.
"When they told us the good news, I was shocked," Solomun says of the day he heard that his young family were to be saved and taken to the safety of Rwanda. At the Emergency Transit Mechanism (ETM) in Rwanda they can get protection, healthcare, and assistance as they await resettlement.
The evacuation flight marked the end of a years-long ordeal in Libya for the couple who were born in Eritrea, met in Sudan, married in Egypt, and had their first child in Libya. They had hoped to make it to Europe but traffickers took their money and left them trapped in Libya for three years.
Thousands of Eritreans every year flee a stiflingly restrictive state where opportunities are as rare as basic freedoms, and where any dreams of the future are clouded by conscription into open-ended military service. Selam and Solomun fled Eritrea dreaming of Europe but were left languishing in Libya by callous smugglers.
Selam's mother left Eritrea taking her young daughter with her, and Selam grew up in Ethiopia. But after her mother died Selam could not attend school and was forced into domestic servitude that left her vulnerable to abuse. She was just 16 and knew she had to escape. In her first contact with smugglers promising safe passage to Sudan, Selam did not believe them, but felt she had no choice but to leave.
For two years afterwards she worked as a cleaner to pay off the debt. Solomun was older when he left, but facing enforced, indefinite military service he too headed for Sudan, paying a smuggler US$1,200 to get him there.
It was in Sudan that the two met and fell in love. They were not registered as refugees in Sudan and so had to live in the shadows, in fear and at constant risk of arrest. Nevertheless, they began planning a future together, hoping to make it to Europe where they believed they might find safety, security, education, employment, and a new life together.
Smugglers promised them straightforward travel, and took their money, but instead delivered them into a series of detentions and difficult journeys.
For Selam, the worst moment came right after the best, when she was separated from both her newborn daughter and her husband at the detention centre clinic where she had just given birth in a hot, cramped room.
"I was alone. No one was with me," says Selam. "She was born in prison." Worse still, her child was taken from her for six days, the psychological torture only ending when she "begged and cried" for her return.
For Solomun, the worst was when another Eritrean woman travelling with them died in front of him as they drove through the Libyan desert, crammed inside a truck, struggling to breathe. "She died," he says. The Eritreans wanted to bury her to show respect for her life, but the smuggler replied, "The Sahara will do that for us," and dumped the body.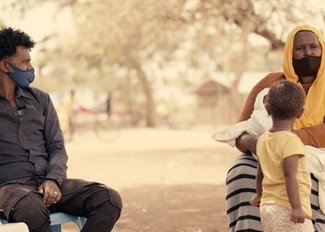 These were not moments either of them thought would come to pass when they paid traffickers to take them to Italy. "We agreed on US$5,000, however it was different once we arrived in Libya," Solomun says.
The fee increased by 60% once they could no longer turn back, and then the voyage to Europe never happened. Instead they were taken to a warehouse and held captive for a year while family members raised the extra money, but even once they had been paid, the smugglers did not honor the deal and instead the couple found themselves in a detention centre in the capital Tripoli.
"Our initial agreement was to pay US$2,500 [each] for the entire trip, up to Italy. However, it was different on the ground: we paid US$8,000 and we were still there," says Solomun.
It was then the couple and their children were selected for a UNHCR evacuation flight that took them to Rwanda, "a peaceful and secure nation," says Selam.
They are hoping for resettlement to a third country where Selam would like to continue her studies before going on to train to become a nurse—realising a childhood dream—and, most importantly, ensure a brighter future for her children.
ENDS