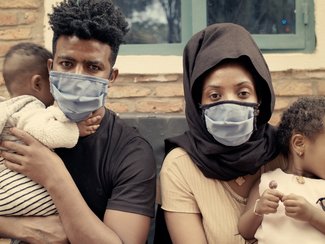 Dreams reignited in escape from Libya smuggling hell
"All I want is for my children to grow up in a peaceful country," says Daniel, an Eritrean refugee, expressing a fundamental human desire that nevertheless remains out of reach for many, especially those forced to flee their homes.
For Daniel and his wife, Yohana, that seemingly impossible dream came a step closer when they and their young children were identified as vulnerable asylum-seekers by the UN Refugee Agency (UNHCR) while detained in Libya, and evacuated to Rwanda.
Since their rescue, the family is staying in the Emergency Transit Mechanism (ETM) in Rwanda, when they are safe and secure as they await resettlement.
Daniel and Yohana left Eritrea as teenagers, without telling their parents, to avoid the forced conscription and open-ended military service that blights young Eritrean lives and dreams. They met and married in a refugee camp in Sudan but found it impossible to earn a living there so, like many others, made the hard decision to try to go to Europe in the hope of building a better life together for themselves and for the family they planned to have.
Entrusting their future to smugglers who promised passage via Libya, they instead faced hardships crossing the desert, were kidnapped, held for ransom, and then detained by the authorities before they were rescued by the UNHCR. Far from reaching Europe, they never even made it to the Libyan coast.
"They tell you it's a safe journey, that you will get there safely, but you find it is the opposite of what they say," says Yohana.
"When you're in Libya you don't think you can escape," she says, cradling one of the couple's two young children. "You lose hope and you only think that you're going to die."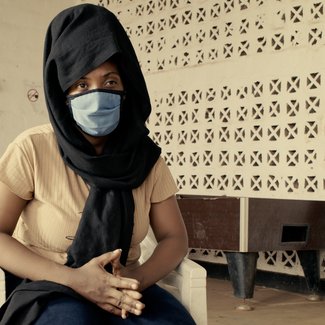 "If you have a sane mind, don't go to Libya," adds Daniel. "It's a bad place and no one can help you or support you there."
The couple did not yet have children when they paid smugglers in Sudan US$4,600 to take them to Europe. The smugglers gathered a group together and set off for a town in eastern Libya, close to the Sudanese border, but on the way their convoy was attacked by a rival gang of traffickers who kidnapped the travelers and drove them for two weeks through the Sahara: 35 people squeezed into an open-backed pick-up truck in the blazing sun, without enough food or water.
"There was hunger and thirst. The journey through the Libyan desert was stressful," says Daniel.
"You see people dying in front of you, and if someone is sick there's no medicine," adds Yohana.
At the end of the desert journey they were confined to a warehouse and forced to pay more money before their release. Those who could not pay were beaten; but all lived in squalor and fear. "I can't even describe how afraid I was," says Yohana. "You don't know what's going to happen."
They were held for a year and half in the traffickers' warehouse before they were able to pay their ransom. "Money does matter," says Yohana.
But release did not mean they were able to travel to Europe: it didn't even mean freedom. Daniel and Yohana went to Tripoli where they were arrested and put in a government detention centre that was scarcely better than the smugglers' warehouse.
"We were together," is the only positive thing Daniel says about the detention centre. As in the desert, there was inadequate food, and the captives were only given water to drink every other day. It was here that their children were born, while in detention, and they suffered too from lack of food and basic necessities. "At any point in Libya, if you have a family you'll be stressed," says Daniel.
When the UNHCR began evacuating especially vulnerable asylum seekers in Libya to Rwanda, it was a lifeline for Daniel, Yohana, and their young children. "I spent almost four stressful years in Libya," says Daniel, "The most important thing is to get out of there to a safe place."
As they wait to be resettled in another country, they are simply relieved to have survived their experiences in Libya. "We feel at peace in this country," Daniel says of Rwanda, and Yohana adds a warning, drawn from her bitter experience: "Going to Libya is suicide" she says. "You go to Libya only to finish your life."
ENDS