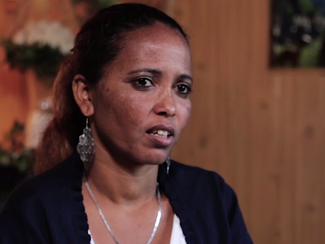 Akberet's Story
Share this:
Have a similar experience?
"People used to tell me that the journey was difficult, but I didn't imagine it would be as difficult as it really was," says 34 year old Akberet Zenawi, an Eritrean refugee living in Germany.
Akberet's journey from Eritrea to Europe started in 2012 when she left Eritrea to find work in Sudan, where she ended up living for nine months. Originally she had no plans to leave, but life there proved to be too difficult. After watching many others depart for Europe, she decided to take her chances and join them.
The first leg of the journey took her through Sudan and Libya. This was a journey she had heard about before, so she knew about the risks that came with it. However, once she set out, the difficulties superseded everything she thought she knew and was prepared for.
"I knew the journey would be tough," she says. "I'd heard there would be hunger, extreme heat, and cold in the desert.  But when I departed I found out how tough it really was."
Like many, she was duped by smugglers who underplayed the true travel conditions. She was told there would just be 18 people traveling on a pick-up truck, only to find herself packed together with more than double that number. She was forced to sit on top of the truck cabin where herself and others had to hang on for dear life. The fear of falling off was especially great because, as everyone knew, the truck would stop for no one.
At sea, the boat carrying Akberet and many others broke down and they were left drifting on the currents.
"It was easy to reach the water from the edge of the boat," recalls Akberet. "Our bodies were salty from getting splashed by the sea."
After hours of drifting, Akberet and the other hungry and dehydrated passengers were rescued by the Italian coast guard.
"When you're at sea on a flimsy boat, all you can think about is when death will come," she says. "'Is it now or later?'"
Upon arrival in Italy, Akberet chose to move onwards to Germany, having heard that Italy was a difficult place to live as a refugee.
Akberet is happy to now be living in Germany, though she still encounters some difficulties —mainly tied to her inability to speak German.
Share this:
Have a similar experience?