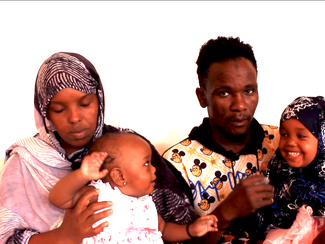 Love blossoms in hardship of Libyan desert
Naima fled Somalia to escape her suffering but found no respite on the hard journey through Libya until she met Omar, a fellow Somali, while trapped in a smugglers' camp. They fell in love and married, before being rescued by the UN Refugee Agency and evacuated to Niger.
Tragedy struck Naima early when, as a young girl in the Somali capital Mogadishu, her mother died of ill health leaving her father to raise Naima and her three siblings alone. Worse was to come. Somalia has been wracked by decades of conflict and insecurity, and as she grew up, both Naima's father and then her grandfather, who had taken over caring for the orphaned children, were violently killed.
By the time she was a teenager, Naima was being raised by her grandmother, one of her few remaining relatives. Young and vulnerable, Naima was only a child when she was raped, and afterwards her grandmother warned her to leave for her own safety. "I was facing a lot of challenges … a lot of tough moments," Naima says of her childhood. "My grandmother helped me to run away and save myself."
Naima was 16, poor, and alone when she headed north to the semi-autonomous region of Somaliland. "I didn't plan to travel. I escaped," she says. Naima left Mogadishu "barefoot, without even a headscarf" with no plan to use smugglers, or even knowing where she might go. "I was just thinking about having a better life," she says.
In Somaliland, Naima met some older girls who took her under their wing. "We're going to a place where we can get a better life," they told her. "We're going to some good countries in Europe." Lacking education, Naima thought Europe was nearby and did not know that the journey might involve having to pay smugglers. "I didn't know where Europe was on a map," she says.
Naima went with the older girls, following wherever the road led, a two-month-long journey that took them through Ethiopia to Sudan and on to Libya. There she was held captive by traffickers who demanded payment, but Naima had no money and no one to call, and her suffering deepened.
"The traffickers were mistreating me. They hand the girls who can't pay the ransoms to each other," says Naima. "They put me in a dark place, and when they'd finished whatever it was they wanted from me they threw me away."
It was at this time of deep despair that Omar—a young man who had also fled Somalia's violent insecurity only to be kidnapped in Libya—was brought to the traffickers' camp.
Omar, like others, was locked up, beaten viciously, and forced to make video calls to his parents to beg them to pay for his release. "We were being tortured and beaten to show our injuries to our parents," he says. "When our parents saw those horrible wounds, they had to send the money."
Despite his own ordeal, when Omar saw Naima he felt compelled to help her. "She was being abused by traffickers in Libya who wanted money. She was being tortured and raped," he says.
One day, as Naima was being beaten, Omar cried out that she was his wife, so they would relent. It began as kindness, but "in the end, our relationship changed to love," says Omar. "When I went on tahriib I never imagined I would get married in the middle of my journey. But life changed, and I met this girl and we fell in love."
The couple found a Somali sheikh who blessed their marriage. "We wanted to share whatever would happen to us during the journey together," says Omar. "We wanted to be united and fight to save our lives and get out of there."
Omar's mother managed to gather the money to pay for their release and the couple at once approached UNHCR, the UN Refugee Agency, in Libya, which organized for their evacuation to Niger. Naima and Omar now have two children together and hope soon to be relocated to Finland to begin their new lives together.
"It was my dream to get married," says Naima. "Before I was alone, now because I'm a mother I'm happy. My family is my happiness, my husband is my happiness."