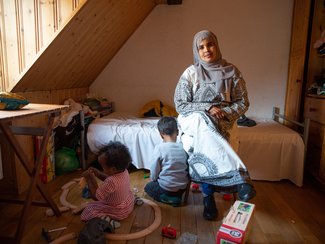 Saida's Story: No mercy for mothers and children
Saida left Somalia for Europe in 2007, in search of a better life. A friend of hers had gone to Europe and called her, claiming to have begun anew in Italy.  Envious and inspired, she decided to go herself. She knew nothing about the perils of the journey.
"Because Italy seemed so close, everybody wanted to go there. I didn't have a good life where I was or my own place to live. I was a woman who was forced to depend on others. So, I left. I left because that girl had left.

The idea was in my mind. I couldn't sleep because of her."
Saida had a cruel and perilous journey across the Sahara to Libya. There was little food and she had to drink water contaminated by petrol. She witnessed regular abuse of her fellow migrants by the smugglers and saw dead bodies by the roadside. She was especially shocked to see so many mothers on the move with their young children.
"It was extremely difficult for me on that journey with so many hardships and problems. But imagine someone who has three children and is breast feeding and has nothing to eat!  

I saw Somali mothers with children and mothers from neighbouring countries, like the Eritrean mother I saw. She was a very strong mother and my heart was broken because of her and her children. While the mother held her child against her breast, she was beaten. You would see pregnant women being beaten."
Once arrived at the Libyan coast, she was ready to board a smuggler's boat but could not agree to the price. The boat left without her. One hour later she and others on the shore received calls for help from those on the boat. The boat had capsized and was sinking. All 73 passengers perished.
"The last scream I heard from the people on the boat was from a girl who had just given birth to a little boy. That night the people on the boat also included three pregnant Eritrean women. One of them was carrying a one-year-old baby and another had a four-year-old child with her. We could not rescue them, and they died that way. None of them survived."
After a terrifying sea journey in a small wooden boat, during which they lost direction several times, Saida arrived in Malta. She stayed for seven months and then went to Germany, where she now lives and holds a permit of stay.  Some years after her own ordeal, she received a call from a nephew who was in Libya trying to reach Europe. He had no money and begged her for help.
"I was in a very difficult situation. Eventually I asked Somali people to collect something for me. I got into debt because of him. He was tortured and beaten, but I found help."
Her nephew was eventually released and arrived in Italy, physically and mentally broken. Saida has an earnest message to those in Somalia who are thinking of taking the dangerous journey to Europe through Libya and across the Mediterranean:  you will be treated worse than animals. She sees that people are making dangerous decisions to migrate because of smugglers' lies and misleading messages from friends and acquaintances.