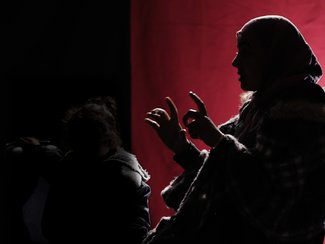 Safiya: In a smugglers boat with a baby
Safiya fled the war in Syria and travelled to Sudan. Her intention was to eventually reach Europe. She stayed in Sudan for a year, got married and had a child. Living conditions there were difficult and they decided to take the Libya route to Europe. They arranged with a smuggler and started the journey through the desert.
"It was hard. We reached a point when we didn't have any water. People were between life and death. The other hard moment was when they locked us up because they wanted more money from us. They locked us up in a place and said you're not coming out until you give us more money. The smugglers treat people very badly."
In Libya, they found an unstable situation with constant fighting and insecurity. They went on board a smugglers' boat that would take them across the sea. The first night at sea they had to return to shore to avoid the coast guard. After spending the night in a filthy place, they set off again. It was a small boat in a bad condition and overloaded, with 45 passengers sitting tightly next to each other.
"People were crammed next to each other, you couldn't move at all. Three days in this situation. We were in the middle of the sea, and the fuel started to run out. Sometimes it felt like the boat would capsize. The situation was so bad, sometimes I felt I wanted to die, it was so hard."
They had very little food and water left, and the situation became critical. Then a rescue ship arrived, and they were transferred to Malta. Safiya says the experience affected her deeply because she was worried about her son all the time. When they were rescued, she was at the end of her tether. Luckily, he is a baby and will not remember the horrors of the journey. But she will not forget.