24 year old Deeqa has been living in Italy for the past seven months and is still awaiting her asylum decision. "I just did my interview and I am waiting for an answer," she says. "They say they will help me for six months and I don't know what comes after that."
Despite an unpredictable future, Deeqa is grateful to be living in a country where she no longer needs to worry about her safety.
As a student in Mogadishu, Deeqa studied computer science and successfully completed her education. Following graduation, she was unable to secure a paying job and began teaching on a voluntary basis. Unfortunately, her career prospects were blocked by Al Shabaab, who forbade women from working. In addition to that, not knowing when or where a terrorist attack would take place made for an unsettled life.
Given her limited choices and the reality of life in a country ravaged by Al Shabaab, Deeqa decided to leave. Despite having limited knowledge of the great number of risks that lay before her, she embarked on a journey to Europe.
Listen to Deeqa retell her journey from Somalia through Ethiopia and Sudan in the hands of deceitful smugglers and ruthless traffickers.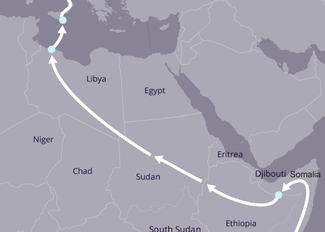 Having escaped her abusive captors, Deeqa, together with the others she'd been held captive with, were taken to Tripoli from where they were to embark on the final leg of their arduous journey to Europe. But despite the hopeful possibility of an end to a torturous period, Deeqa found herself held hostage again for a period of three months.
During that time, Deeqa and the other captives had limited access to food. Some nights they went hungry. Their captors used the men as slaves to build houses while the women were repeatedly raped. Beatings and torture seemed to be the order of the day.
"Sometimes in the middle of the night they would come and beat us," she says. "Everybody was beaten, but getting taken was the problem."
"I was not raped," she adds. "I was sick, my body was rotten because of the burns… I was disgusting."
Finally, Deeqa's family was able to pay the 1,000 dollars her captors were demanding, and she was released to continue her journey at sea. Deeqa and the others were forced to board two run-down rubber boats, which were inflated and assembled right in front of them. Once at sea, both of the boats began to deflate.
Listen to Deeqa describe her experience at sea and how she finally reached Italy.
Share this:
Have a similar experience?