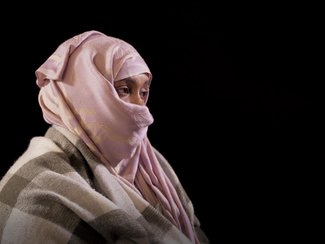 Nasiba: Murder on the mountain
Nasiba had to flee Sudan after her husband and her sister were killed in an attack on their home. She went to Egypt with her son and her two nieces. A friend suggested they could go together to Libya and from there to Europe, and Nasiba agreed. They worked to earn money to pay the smuggler and then they left for Alexandria. They had to stay in a big house with many people who like them were waiting to depart to Libya. Nasiba noticed that bad things were going on in the house.
"At night, bad things were happening. Smugglers would come and ask, Who do these people belong to? And then take girls with them."
From there, they were taken to a place near the border, where they would have to walk across a mountain to reach Libya. They started the trek. They walked for hours in the rough terrain and were tired and thirsty. One of the smugglers started to get close to Nasiba's nieces, groping them under the pretext to help them climb over difficult places. When they sat down to rest, the smuggler took one girl aside and started to molest her. A man protested and told him to stop, and the smuggler hit him. The man fell down, his head hit a rock, and he died. Everyone was terrified. They continued their walk in silence. Then another terrible thing happened.
"An old man had a bad cough. The smugglers told him to stop, people could hear. When he didn't stop, they grabbed him and threw him off the mountain."
Next time they sat down to rest, they saw men with torches approaching. It was the border guards. After six days in detention, Nasiba returned to Cairo. Nasiba says she would never go on a trip like that again. She saw terrible things, hunger and thirst, rape, and murder.