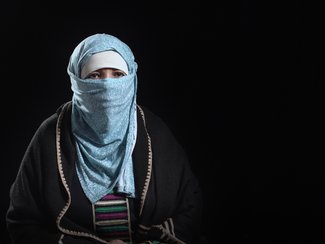 Ekhlas: That journey was a bad mistake
Ekhlas escaped from her hometown in western Sudan after a tribal vendetta in which several family members were killed. She went to Khartoum, but their enemies followed them there, so she fled with her children to Egypt. Even there, they were afraid to be caught up by the murderers.
"I was talking about all this with my friend and telling her all about what had happened. I told her we were really tired. So she and her husband told me about going on tahriib. We were discussing whether we could for example reach Libya. From Libya you can reach any European country by smuggling."
They departed on the long journey across mountains and through the wilderness. When they reached Libya, they had to walk for hours through the desert to get to Ajdabiya. From here on, the smugglers became increasingly brutal.
"During these three days something happened in this place. One of the Eritrean girls was taken by one of the smugglers. He took her and raped her. They took her and raped her because Eritrean girls usually come alone. They don't have a man with them."
In Bani Walid, Ekhlas' daughter was harassed by a smuggler and her son got into a fight with him. At this point, Ekhlas felt she had had enough. She decided to return to Egypt to avoid further dangers and save her children. The husband of her friend paid for her return journey and she came back to Egypt. She is horrified when she thinks of what could have happened to her children if they would have continued. That journey was a big mistake.