Muhiim begun her irregular journey from Somalia in 2012 at the age of 17. As a teenager she was kidnapped, sexually abused and tortured by armed groups who had also wanted to marry her off. Luckily she was able to escape and get into Ethiopia.
Whilst in Ethiopia, recuperating from the wounds inflicted on her, she became acquainted with the journey to Europe.
"When I came to Ethiopia I got information that people go to Europe," she says. "I heard you can go from Ethiopia and take the journey to Europe. And you may die on the way but I didn't know about the suffering in the journey."
With no money, no family to call and limited knowledge on the dangers posed by the journey, she took the decision to partake in it.
Here Muhiim talks of her journey on the run from Somalia through Ethiopia and Sudan to Libya.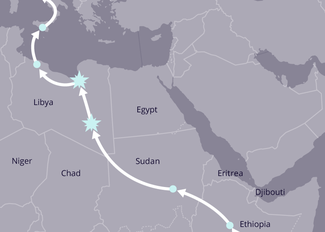 After 10 days of travel in Sudan, four of which were spent walking through the desert, Muhiim and the people with her arrived to Libya. Several of the people were left behind due to fatigue and thirst whilst some collapsed under the scorching desert heat. Death seemed to surround them.
Once in Libya, the journey took a turn for the worst. Muhiim together with the migrants were held in the desert for three months where they were tortured and beaten by their traffickers.
"It is worse for the women. Although it is not easy for the men either," she recalls. "If he wishes he will do anything to you in front of the men, he will strip you naked in front of the men."
Eventually, the traffickers realized that she indeed had no means of paying them and one of them opted to have her work for him as a slave for a period of four months before getting her to the coastal city of Tripoli.
"They did everything to me," she recalls. "I told them I have no mother and my father has no phone number. He tried everything and realized I had nothing to give. Then he took me to his own home and asked me to work for him."
Once in Tripoli, Muhiim found a menial job working for a family and managed to save some money to pay for the sea crossing. She attempted the journey on two occasions; but was arrested and imprisoned on each occasion. It was only during the third attempt that she succeeded in making the crossing.
Listen to Muhiims harrowing two year ordeal in Libya.
After four days and four nights at sea, the boat carrying Muhiim and 120 passengers was finally rescued by an Italian ship. Once in Italy, she received treatment for various ailments that she had contracted during her journey. Her life seemed to take form despite the loneliness.
"You feel that you finally exist, "she says. "Then you feel lonely, miss your family and all the stress but otherwise everything else is OK."
Muhiim today lives in Milan, Italy and holds a resident permit. She hopes to find a job once she is fully recovered.
"I am in a good situation now, although I am still sick from the journey," she says. "Later I can work, when I am healthy."
Watch Muhiim's account of the journey at sea and her life today in Italy.
Share this:
Have a similar experience?