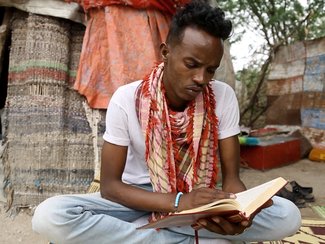 Driven by envy to a disastrous journey
Growing up in Hargeisa, the capital of Somaliland in northwestern Somalia, Khadar had what he calls "a complete life… full of happiness". But as he grew through his teenage years, increasing numbers of friends left for Europe, using the smugglers' route known as tahriib, and Khadar became jealous of the stories they told and the pictures they posted on social media.
His own life began to feel limited and inadequate. "I was always hoping to get where my friends were, and they were encouraging me to come to where they lived," he says. "But that was bad advice."
One day, Khadar decided to join them. Through friends, he made contact with a network of smugglers and left for Bosaso, a busy port city on Somalia's northeastern tip. From there he took a boat to Yemen, and another to Sudan.
It was on this second journey—four days and nights without food and with little to drink—that he began to question his choice to leave.
"I knew that my journey was wrong, and I'd made the wrong decision when I arrived in Sudan," Khadar says. "It became clear to me that I was an ignorant person, someone who didn't know the truth."
The truth is something Khadar would discover during the terrible long months that followed. In Libya he was held captive by smugglers who demanded a US$10,000 ransom for his release, shot in the leg during a gun battle between rival traffickers, crammed onto a tiny inflatable dinghy and risked drowning in the Mediterranean Sea, then arrested and jailed by Libyan authorities. "I had so many misfortunes," he says.
These were not the experiences he had been led to expect by his friends.
Despite being poor, Khadar's parents managed to scrape together the ransom to buy his freedom. "They struggled. They exhausted themselves. They did the impossible," he says. "They asked for help from relatives, people of our tribe, and the family."
After being traded from one group of traffickers to another, Khadar at last managed to board a flimsy vessel that the traffickers said was bound for Italy. Instead it drifted with its 100 passengers until they were pulled from the sea by the Libyan coastguard, and arrested. It was then Khadar abandoned his dream of Europe and sought a way to return to Somaliland.
Despite the worry and traumas he had put his family through, and the financial costs of the ransom they paid during his attempted journey to Europe, Khadar's mother, father and seven siblings welcomed him home gladly.
Khadar still suffers nightmares, and lives with the shame of his failed attempt to leave what was a good life, for the dangers and risks of tahriib. And he still worries how he will ever repay the ransom money his parents raised.
But his family has been an immense support. They have helped him work through his experiences in Libya and begin to see his life in Somaliland from a different perspective.
"My family has tried to instill optimism in me. They wish the best for me, and told me to forget the past and start a new life."
Since returning, he has resumed his studies and trained in handicrafts. "I am fighting to get my life back on track again," Khadar says. "I was dreaming of another life… [but] I decided to stick to the life I had fled from."
ENDS