Healing through poetry
"Lying is part of smuggling," says Abdi Najib, whose dream of a new life in Europe was shattered by the trauma and loss of his attempted journey. "They are always lying to make things sound easy." An aspiring poet and playwright, Abdi was a romantic 17-year-old when he fell victim to the beguiling stories of escape from Somaliland and left in pursuit of opportunity in Europe.
Abdi traveled with a close childhood friend, Shacraawi, but after an arduous and dangerous journey to Libya, and multiple failed attempts to cross the Mediterranean Sea, he gave up after nearly two years, and returned to his family in Burco. But Abdi returned alone: his friend had tragically died in the desert.
Welcomed back, Abdi uses poetry to express his loss and regret, and to process the horrors that he witnessed and experienced while on tarhiib, and now he wonders why he ever tried to leave.
Growing up, "I was a happy, lucky kid," says Abdi, but in his teenage years he had watched as friends left, and he grew increasingly frustrated at the idea he might be missing out on opportunities others were seizing by traveling to Europe with smugglers.
"When you're depressed you hate your town, your school, and you start thinking of tarhiib," he says. Abdi had heard of those who had reached Europe, who regaled friends and relatives, in phone calls and social media posts, with their successes, but the ones who failed—those who returned in shame, or were detained on their journeys, abused and tortured, or who died en route—their stories were not shared.
"There were young people in the family who went on tarhiib, but no one was harmed. That made me think nothing would harm me," he says
A member of a smuggling network in Burco encouraged Abdi and Shacraawi to set off for Jijiga, in Ethiopia. There they were met by traffickers who promised to take them through Sudan and Libya, then across the sea to Europe. "They gave me a warm welcome, as they normally do, and they gave me a place to stay and treated me well. They said, 'You'll reach your destination easily!'" says Abdi.
That kind treatment soon changed. Once they were committed to the smugglers, the beatings and threats began, and Abdi began to wonder whether he had made a terrible mistake.
They were in the desert outside Khartoum, on the way to Libya, when Abdi saw other travelers falling sick, and the smugglers growing harsher. Abdi wished to turn back, but was told, "You came here illegally… you can't go back!" It was then he grasped the seriousness of his situation.
Soon afterwards, the sickness spreading through the group took hold of Shacraawi: he was among 16 who died while crossing the desert, their corpses abandoned in the sand. Abdi has since written a poem in Shacraawi's memory that begins,
Suffering is a problem.
Fatigue and pain, are not just empty words
No one can escape.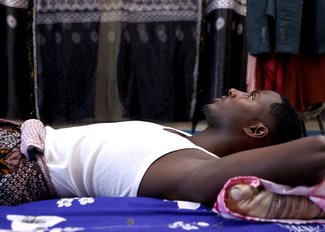 A brutal journey turned into captivity in Libya, as Abdi and the other survivors were detained by the smugglers until ransoms were paid. "We were many people, and every one of us was told to pay US$5,000," he says. Abdi was made to call his family and plead for help. In the end, his mother raised the ransom by selling a house, and Abdi was released.
Determined to succeed, like others he had heard had made it in Europe, Abdi tried to cross the Mediterranean in a flimsy vessel. Four times he set out from the Libyan coast, and four times the vessels were intercepted by Libyan authorities and returned to Libya where they were placed in detention. The situation was worsening in Libya as the country's conflict ratcheted up again, and Abdi at last gave up. "I was heartbroken from going out to sea and always being arrested and sent to prison," he says.
A delegation from the International Organisation for Migration (IOM) visited the prison, and Abdi begged to be evacuated and sent home.
When he arrived back in Somaliland, Abdi was welcomed by his family with open arms, despite the worry and the money he had cost them, and he has resumed his education, hoping to become a lawyer.
Abdi still suffers nightmares of his time on tarhiib, but has found a way to deal with them. "To handle problems like that, I write poems and share them with the public," he says.
He also writes poems to his family, lyrical apologies to his mother for the stress he put her through, and gratitude for saving him:
My leader in life, you didn't let me suffer.
Personally and emotionally, you did so much.
How dear you are, my idol above all.
ENDS