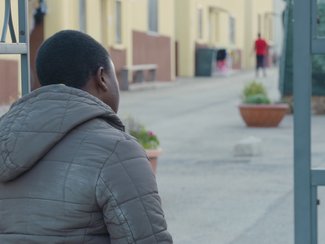 Florence's Story: Fled rape at home only to be forced into prostitution in Europe
Florence grew up in a village in Nigeria. Her father was abusive and first raped her when she was 15. She did not know how to get out of this situation until in 2008 she met a woman who told her she helped people get to Europe. She promised to arrange the journey for her.
"I had heard that our girls in Europe are very much into prostitution. That's why I asked the woman, I hope I'm not going there for prostitution?

I'm not going to do that. She said no."
After a difficult journey to Libya and a rough crossing of the Mediterranean - the boat she was in sank as the last person was rescued - Florence arrived in Italy. She contacted the woman who was to give her a job and travelled to Rome to meet her. There she was given a warm welcome and told to rest and relax because her job would start soon. After a few days, she was told the job was waiting, but first she had to get her hair done and change into new clothes - a mini skirt, a blouse and a light jacket.
"She asked me to put them on. I asked what that was for and she said didn't I know that I was coming to work as a prostitute. I told her I wouldn't do such a job. That was not in our agreement. I can't sell myself for money. So, we had a fight and I left."
Soon after that she was arrested by the police.  Because she did not have legal immigration documents, she was deported to Nigeria. There Florence tried to establish a life of her own, finding a job as a hairdresser. But she was still living with in her parents' home and her father preyed on her again. She became pregnant and bore the child, though she could not tell her mother who the father was. When the child turned one, she decided to try Europe once again. She left the baby with her mother. Crossing the desert to Libya, she found work in a restaurant until she saved enough money to pay for the crossing to Italy, where she is now living, waiting for a decision on her legal status.
" Here in the reception centre I feel free.

Protection was what I really wanted."