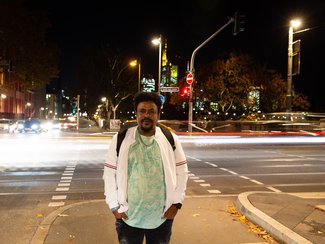 Awet's Story: Helping children on the move
Awet left Eritrea in 2008 and spent many years in different African countries until in 2015 he decided to try to get to Europe. He contacted smugglers and prepared to travel through Sudan and Libya and across the Mediterranean. In Khartoum, he was shocked to see so many Eritrean children and teenagers on the move. They seemed lost and helpless.
"The Sudan I knew and saw in 2008 was different from the Sudan I saw in 2015. I'm talking about the young Eritreans who are facing misery day after day and are living a very bad life there. I found a lot of young people, 15, 14, and 13 years of age there."
He also met many children under 18 from his own hometown in Eritrea who were trying to find their way to Europe. He felt compelled to take responsibility for them and support them during the journey.
"I brought them with me. The situation was very difficult because I had to take responsibility for all of them. I was the one who knew what it meant to be a refugee. I was the oldest one. It was a big burden."
During the journey Awet heard some shocking news. A close friend of his who was also travelling through Libya had been caught by Daesh (ISIS) and beheaded. Everyone in Awet's group was terrified. His father and sisters called him and implored him to interrupt the journey and return to Khartoum. He was now in a terrible dilemma.
"Everybody was scared, even me. I was losing hope. I had two options. There were possibilities to run away, we could escape. But because I had taken responsibility for these kids, it was difficult for me. If I run away and something happened to these kids, the consequences would be very serious. I saw desperation on their faces."
He felt he could not abandon these children and decided to continue the journey with them. It was very difficult. They were not caught by terrorists, but by some other Libyan militia and were put in a holding place where they did not get anything to eat. The militiamen were extremely cruel and Awet witnessed a pregnant woman being severely beaten and maltreated. Awet says he never in his life had seen such cruelty and violence.
When they finally were released, they were taken to the sea cost and boarded a boat, carrying 500 people. Five hours out at sea, the engine broke down and the boat started drifting. They managed to alert the Italian coast guard and a German ship came to their rescue.