Safety in an unexpected place
"Nobody puts themselves in danger for no reason," says Abdi who, under threat from Islamist militants, felt he had no choice but to flee Somalia despite knowing the risks that lay ahead on the perilous route to Europe. But after the 23-year-old's journey ended in prolonged detention in Libya UNHCR, the UN Refugee Agency was able to evacuate him to Rwanda, where he is safe at last.
"Somalia isn't secure and there are threats everywhere," says Abdi. The threats are particularly acute for young men, such as Abdi, who are frequently forced to join the ranks of Al-Shabaab, an Al-Qaeda aligned militant group waging jihad against the internationally backed government in Mogadishu. They are conscripted to fight against government forces, to smuggle weapons, spy, or become suicide bombers.
"They ordered me to work for them and join them to attack people," Abdi says. But he did not want to become an Islamist gunman, so he fled for his life. Many leave the dangers they find at home unaware of those that lie ahead, but Abdi knew only too well that the journey would be risky, yet felt he had no choice.
"I had a close friend, but he passed away," Abdi says. "He travelled from Somalia and died in the Yemen sea [Gulf of Aden]. I know everything about what happened to my friend, but I decided to leave anyway and face this danger, because of the challenges and hardships in my country."
Abdi left in a hurry, with $120 in his pocket, and headed north to Bossaso, a port town that is the capital of the semi-autonomous region of Puntland and a well-known transit point for people travelling to Yemen. Smugglers do a brisk trade in Bossaso and Abdi had soon paid for his place on a boat to Yemen. There, he was held in a house, unable to leave, while more people were gathered—up to 300 in total—enough to fill the larger onward boat to Sudan.
The voyage took five days, and the smugglers supplied neither adequate supplies of water nor food. The suffering mounted. "Days and nights we were feeling hungry and thirsty," says Abdi, adding that at one point he was forced to try drinking sea water, such was his desperation. One young girl, he says, died of thirst during the crossing.
On arrival in Sudan, Abdi was handed over to another group of smugglers who took him to a house outside the city where, once again, his freedom was curtailed as he was forced to wait while more people gathered for the drive to Libya.
After a month, they set off, crammed in uncomfortably, dozens to a vehicle. "When travelling with smugglers you should forget about healthcare and doctors… and be brave enough to endure hard times," warns Abdi.
His experiences in Yemen and Sudan, were nothing compared to what lay ahead in Libya. Instead of being driven to the coast, and finding a boat to Europe, Abdi was taken to a detention centre. This time his captivity was not measured in days or weeks, but in years. "I lived in Libya almost three years," he says.
During that whole time, "We couldn't contact our parents to inform them we were still alive," Abdi says. UNHCR workers would visit, bringing blankets, mattresses, and clothes, but guards at the centre would steal them. Abdi's situation was bleak and there seemed no way out, when Libya's civil war erupted once again.
The fighting was the opportunity Abdi and the other captives needed, and they escaped. "Everyone ran away from the camp and went to the city," he says.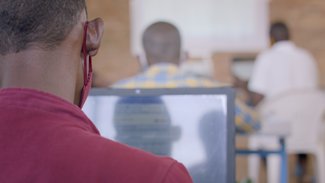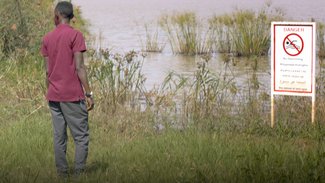 Abdi was rescued by the UNHCR and evacuated to Rwanda as part of the Emergency Transit Mechanism(ETM) that rescues vulnerable refugees and asylum seekers from detention in Libya.
"I was in trouble, but they came for me and saved me from a dangerous situation," he says. Abdi has now found safety, and although it is not where he had intended to go, he says he enjoys security, freedom, and contact with his family again. "Since I came here I've been talking to my family every day. We have healthcare and safety. Everyone is free to go outside. Here, we get all our basic needs, and everything is good."
ENDS