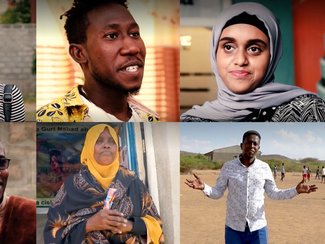 A day in the life
In collaboration with the BBC Media Action, we present a series of short films following a 'day in the life' narrative - following refugees in their day to day lives, and illustrating the contributions that refugees make to their communities.
The objective of this series of short films is to foster empathy while highlighting how refugees in the community overcome and adapt to day-to-day challenges through sharing their individual experiences.
A day in the life of Michael
Michael or Miki - as he is known, is an Eritrean refugee in Ethiopia's Addis Ababa. He is both a videographer and an editor. He was only six years old when he fled to Ethiopia in search of safety. Despite his lack of access to equipment, he has continued to pursue his passion for the arts and now oversees a number of projects.
A day in the life of Fatima
Fatima is a Eritrean refugee artist in Addis Ababa, Ethiopia. She has collaborated with TRS in running art therapy sessions and her work has been exhibited in refugee art exhibitions.
A day in the life of Snit
22 year old Snit is an Eritrean refugee living in Addis Ababa, Ethiopia. She is an author of children's books. Her ambition is to create animated films for children. She feels that this will bring a smile to the faces of refugee children, particularly those who do not speak any other language but Tigrinya.
A day in the life of Mahad
Mahad Abubeker Abdulle, 33, is a Somali refugee living in Jijiga's Awbarre Camp. Mahad and his wife moved to Awbarre in 2008 and have spent the last 14 years there. Mahad has held a variety of leadership positions at the camp. He has been the president of the Refugee Youth Association in Awbarre camp for the past two years. Mahad's principal platform as president of the Youth Association is to provide long-term opportunities for youth empowerment through recreational and livelihood activities.
A day in the life of Mikhail
Mikail, 30, is a Somali refugee living in Jijiga, Ethiopia's Shedder camp. Mikail holds a university degree in management and is a refugee entrepreneur who teaches English to refugees. He also serves on the Refugee Community Council. Mikail has worked as a refugee outreach volunteer and trainer with UNHCR's TRS, CRRF, and ILO programmes since his arrival, utilising his strong language skills in Arabic, English, and Somali. Mikail has organised over 20 seminars in Shedder, Awbarre, and Kebribeyah for both refugee and host youth on leadership, minimising gender bias, Tahriib awareness, scholarship preparation, and UNHCR complementary pathways . He continues to shine as a community advocate for University Graduates and Young Adults, promoting awareness and advocating for their rights.
A day in the life of Habiba
Habiba Mohamed Oukash, is a 51 years old, Somali refugee living in Awbarre Camp. She arrived at Awbarre camp in Jijiga, Ethiopia in 2006 as a widow seeking asylum after fleeing southern Somalia. She has lived in Awbarre camp for 15 years. For almost a decade, she has been a board member and currently the chair of the Refugee Community Council (RCC) and Women's Association. Her advocacy to raise awareness about gender based violence, Tahriib, and women's and girls' health issues has made her a role model of resilience and leadership in her community.
A day in the life of Yeabyo
Yeabyo is an Eritrean refugee living in Addis Ababa. He works as a metal worker and does not let his disability hinder him. His belief that a person's disability should not prevent them from reaching their goals makes him an inspiration to many refugees.