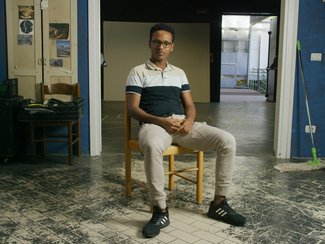 Patience pays off for refugee student
"It can feel like you're losing time," says Yohannes, recalling how he watched as other Eritrean refugees left Ethiopia for Europe, using the perilous overland smuggling route across the desert and the sea. Some made it, others died or were detained on the way, but Yohannes stayed. He studied hard at university but still felt as if he was going nowhere, that he was stuck in limbo.
It was not the first time Yohannes had felt this way. He was happy growing up in Eritrea and going to school, until he had to join mandatory military service and, after that, was drafted into military college to study a subject he had not chosen. Nevertheless, he studied there for three years, until he couldn't take the lack of freedom anymore.
"When I lost hope, I had to leave," he says. It was "a big and difficult decision" to leave his mother and sister, but he felt he had no choice other than "heading into the unknown".
Yohannes fled across the border to Ethiopia in search of better opportunities. He arrived to find that he had missed the deadline for that year's university entry and had to wait for eight long and dispiriting months in a refugee camp. "You cannot study, you cannot go to the library, you weren't able to work. You just sit there waiting," he says.
When Yohannes was able to sit the entrance exams, he passed and was accepted to university to study mechanical engineering, but he had to start again: his time at college in Eritrea counted for nothing. "I had studied for three years in my country, but I left everything to start over," he says. "It wasn't easy to start over. It wasn't easy for me to lose time."
"It was not easy to stick around because a lot of people were leaving irregularly for Europe," Yohannes says. "Most people travel by sea to Europe, and there are times when you lose your way while everyone else goes by sea. Sometimes it was hard to continue my studies."
Knowing the dangers, however, Yohannes "decided that I would not leave the country as an illegal migrant, but that I would go with qualifications so I could contribute."
At the end of his five-year course, Yohannes graduated top of his class and applied and was accepted on the University Corridors for Refugees (UNICORE) scholarship programme, which is supported by the Italian government and the UN Refugee Agency (UNHCR) and allows refugee students to travel to Europe to study at one of 32 Italian universities, where Yohannes is now studying automation engineering.
Despite being so far from home, Yohannes says he has been made to feel welcome in Italy. "We felt right at home because each student was assigned to a family. In that way, we could integrate quickly," he says.
Approaching the end of his master's, Yohannes has undertaken an industry internship, is writing a research paper and has also landed a one-year contract with an Italian company.
"My dream was to reach the highest level in my field of study," Yohannes says. "That was my dream, which seems to have nearly come true!"