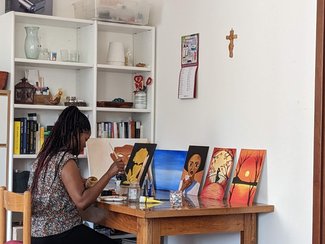 'Dream big dreams, and work towards them'
Growing up in Eritrea, Luwam always wanted to help people. She would volunteer at her local orphanage and later studied sociology. Now, thanks to a university scholarship programme for low income students, she is in northern Italy, studying human rights and governance, and maintaining that childhood commitment to service to her community.
"It is a dream I am still working on. That's why I'm studying," she says.
Luwam was forced to flee Eritrea in 2019 to escape open-ended conscription and repression. She escaped to neighbouring Ethiopia to continue her studies and while there applied to join an Italian government-backed programme, called University Corridors for Refugees (UNICORE), that offers scholarships to refugees, allowing them to travel legally to study in Europe, at one of 32 Italian universities.
The programme is competitive and Luwam was dismayed to miss out on a place at her selected university, but she did not give up and instead applied independently to the same institution, this time for a regional scholarship, and was successful. UNHCR, the UN Refugee Agency, supported her application by helping source travel documents.
Luwam's tenacity and determination shone through, drawing on her life experience of struggle and overcoming adversity as a refugee. She says that what matters above all is to not give up, and to "dream big dreams and work towards them".
The joy of being accepted to study at Padova University in Padua was, however, tinged with sadness as Luwam found herself aboard an airplane heading north, high above the Sahara Desert. "The flight was quite difficult, I can't exactly say I enjoyed it," she says.
A route map showing on a screen in the plane plotted her simple route to Europe while out of the window the desert's expanse stretched into the distance. Luwam knew how fortunate she was, because she knew how many thousands of others were forced to take the dangerous journey overland in the hands of smugglers, risking kidnap, abuse, and death.
"Watching our course on the map I was overcome with emotion because it often takes Eritreans and other refugees many years to make the same journey," she says. "They experience violence and hardship and many die along the way. So while I was flying through the sky, it's like I could feel what they were going through."
Besides being a committed student, Luwam is a talented artist for whom painting is both relaxation and therapy, helping her forget difficult memories and experiences. She paints canvases that hang in Eritrean restaurants and Italian homes. "Painting has been a part of my life since I was little. When I start painting, everything else is forgotten," she says. "I'm always happy painting."
Luwam credits her mother with giving her "strength and encouragement" whether to follow her dreams, to never give up, or to try painting for the first time. "It was my mother who recognised my inclination, she made me feel free to try and have confidence," she says.
One of the toughest aspects of becoming a refugee in Ethiopia, and then accepting the scholarship to study in Italy, is the continuing separation from her mother. "When I decided to leave Eritrea, the hardest thing was to leave my family, especially my mother," she says. "It's hard to leave but it's something you have to do. I had no choice."
Though far apart, Luwam says they speak on the phone often and their bond remains strong. "She is in Eritrea, but she is always by my side," Luwam says.
ENDS