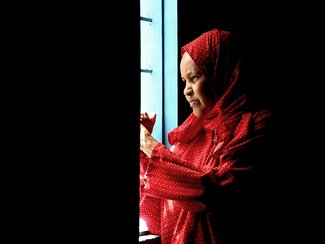 'I pray that I will see my son again'
Fosia's oldest son had felt the pressure of responsibility building in the months before he decided to leave Somaliland and take his chances with smugglers who promised a route to Europe where he might find work and a way to support his dependents. When he went, it was without any warning, leaving his mother distressed, heartbroken, and without support.
Fosia's husband had died years earlier and diabetes had recently forced her to stop working in the restaurant where she had earned a living so, at just 25, her son Caydarus [TM1] had become the sole breadwinner for an extended and growing family. Without Fosia's income, the responsibility for his younger siblings' school fees, his mother's healthcare, the rent and food, fell to Caydarus. In addition, his wife had just given birth to their second child.
The costs, demands, and obligations were a lot for a young man, especially one who had already been forced to abandon his education in order to earn money to contribute to the family. Unskilled labour was hard to find, but he eventually got work driving a tuk tuk, a three-wheeled auto rickshaw.
Caydarus worked hard, Fosia says, and even though he did not own the vehicle he used and only earned a little, he was always able to spare some money for his mother and his siblings. "He used to help me. He used to give US$10, US$20. He really saved our lives," she says.
At the same time, "he was caring for his family," Fosia says. "He would not sleep until he had given dinner to his daughter. He loved his children so much. He was young, but a good father."
One day, Caydarus told his wife that he was going west to the town of Borama, close to the Ethiopian border, where he hoped to find more work, but then he disappeared. He told his mother nothing at all.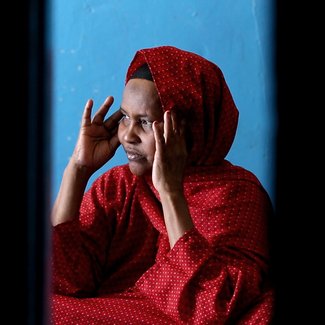 "His wife told me she hadn't heard from him after he went to Borama. When we still didn't hear from him I became very worried," Fosia says.
Around 10 days later, Caydarus called, not his wife or mother, but a friend, who relayed some shocking news: Caydarus was no longer in Somaliland. He had gone on tahriib, a common term in Somalia for irregular youth migration in which smugglers offer people seeking passage to Europe the chance to travel now and pay later. Instead, they often find themselves on a perilous journey at the mercy of violent criminal gangs who hold them captive, torture them, and extort money from their families.
"It caused me anxiety and pain, when he told us he was in Sudan," says Fosia. She begged the friend to call her son back and tell him to come home.
The next time Caydarus called was three weeks later and by now he was in Libya. "He told us he was in the hands of traffickers," Fosia says. The smugglers demanded a payment of US$12,000 for Caydarus' release, an amount Fosia could barely dream of, much less raise.
When they spoke, she could tell from his voice that he was scared, that he had been mistreated, "tortured", Fosia says. The phone call was torture to her, but all Fosia could offer were prayers that god might help.
Twice Caydarus was made to call Fosia from his detention in Libya, a common tactic used by the smugglers, to squeeze money from family-members by exposing them to the horrific reality of their loved-ones' abuse.
The third time, it was the smugglers themselves who rang. Fosia could hear screams and crying in the background. "Send the money, if you care about your son!" they told her.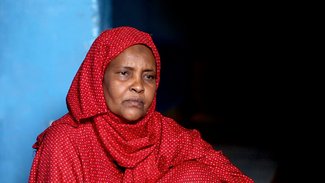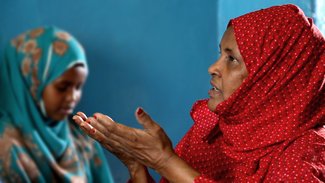 But Fosia was helpless: all her relatives are poor, and even at her local mosque people could only offer small amounts to help her and her remaining children to get through the day, certainly not the many thousands being demanded. "There's no way I can collect US$12,000 to pay for him," she says.
Unable to raise the money to pay for his release, Fosia resorts to praying for Caydarus. "I pray to god to help him, to protect him," she says. "I pray to god that I will see my son again one day."
Fosia has not heard from him since, but even through her heartache, and her fears for what may become of her son, and despite the precarious financial situation into which the family has been thrown by his departure, she says she still understands why he felt he had to leave.
"He was the eldest of children who had lost their father," she says. "He was driven by need."
ENDS