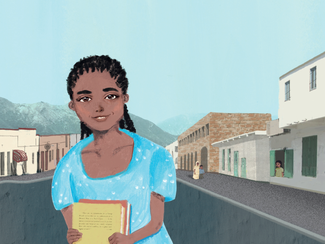 Eritrean Children's Book
Lwam is a 12 year old girl living in Eritrea. One day, after her best friend leaves town to take the journey to Europe, Lwam decides to make the journey too. But when the letters start arriving from her friend , Lwam is horrified by all the things she learns about the journey and its dangers. She is forced to ask herself, am I willing to risk my life for it too?
"The Journey"was created to provide young people with an accurate picture of moving irregularly to Europe. The book is available in English, Tigrinya and Arabic.