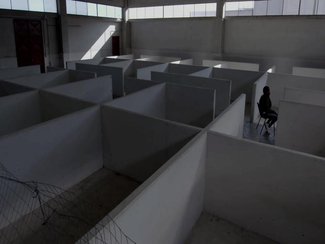 Vanessa's Story: A journey through hell
In Nigeria, Vanessa struggled to house and feed herself and her three children after being thrown out of their home by her abusive husband. She worked as a hawker, selling fruit, and as a hairdresser, but worried constantly about money. Then a friend mentioned a sister in Italy with a hairdressing salon and recommended Vanessa to work there. To Vanessa, this was a dream opportunity.   
"She said I should be ready to move soon. I asked her how come things had been arranged so quickly. She said, well, her sister had arranged it all. I took my baby along. I left the other two with my mother."
She was told it would be an easy journey and thus was totally unprepared for the reality of the Libyan route. The first shock came crossing the Sahara. She saw human corpses and skeletons all along the road, including a truck full of the dead.
Arriving arrived in Tripoli, Vanessa and her fellow travellers were housed in a smuggler's compound to await passage across the sea. Meanwhile, a fight broke out between rival neighbourhood gangs. As Vanessa cowered on the floor, bullets flew everywhere. Then her baby, who had developed fever on the trip, became critically ill. A boy in the group offered to go for medicine but he was killed by a stray bullet when he emerged from the compound. Soon after, Vanessa's baby died.
"They busted [into] the house after my baby had died. They snatched the baby from my hands. They pushed us hurriedly into a pickup truck. They said we had to move fast because when the other group would enter the house, we would all be killed.

To this day I don't know what they did with my baby. I don't know where the body is now. I don't know if they threw it away. The baby died in my arms."
With a heavy heart, Vanessa boarded a smuggler's boat for Italy. At sea the boat was captured by bandits who took them back to Libya, where they were made to call relatives for ransom money. Vanessa was able to reach her girlfriend's sister in Italy who paid for her release.
She made a second attempt to cross, but this time she was caught by the Libyan Coast Guard, brought back and imprisoned. The conditions were abominable; there was very little food and the guards were violent and abusive.
Eventually she was bailed out by a man from Ghana who took her to his house and sexually assaulted her. He later sold her to a brothel where she had to work as a prostitute to pay off her debt. Once she had paid her debt to the Madam, she continued to prostitute herself in order to earn money for the passage across the sea.
"I didn't have a choice because in Libya, everyone carries their own cross. That was how we lived in Libya. You can't get anyone to help you unless you offer your body, or you have money to pay them."
After these horrible experiences Vanessa finally reached Italy, only to learn that there was no hairdressing job. Her girlfriend's sister expected her to work as a street prostitute.
Vanessa is now living in a reception centre, unsure about the future. She says her biggest regret is having taken her baby with her on the journey. And, she blames herself for the death of the boy who tried to help. She knew nothing of the dangers of the journey. Had Vanessa known, she would have left the baby with her mother and risked only her own life and body.