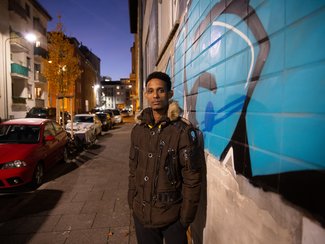 Shishay's Story: Kidnapped, detained, beaten, and sold
Shishay is a refugee from Eritrea who arrived in Germany in 2015 after a horrible journey through the Sahara and Libya during which he was kidnapped, brutally beaten, held in detention, escaped, and caught again. Having fled his homeland to Ethiopia in 2011, he went to Sudan with the help of his sister, who lived in Khartoum. He tried to find a job there, but it was very difficult, and the situation became unbearable. It was then that he decided to go to Europe. He discussed his plan with a friend who convinced him to go. But his sister was appalled at the idea.
"I told her that I wanted to go to Libya. She replied, haven't you heard about people who are being kidnapped? People dying either in the Sahara or at sea? I refused to listen and told her that I wanted to try my luck."
Together with his friend he contacted a broker who arranged their journey. One night they left in the back of a lorry with some 140 persons on board. They entered the desert and after driving for some time they stopped at a resting place in an area of sand dunes.
Then something unexpected happened. One of the sand dunes suddenly started moving towards them. It was no sand dune; it was four sand-coloured Landcruisers that were driving towards them. The cars were full of men with automatic weapons and in military gear who started shooting in the air. They were surrounded and the lorries with people were taken over by the bandits. They had been kidnapped by some Chadian militia.
"We wondered what was happening and we were scared by the shooting. This hadn't happened before. We were the first group to be kidnapped. They beat our drivers and then called their big boss. He told them to bring us to him."
This was the beginning of a two months' ordeal. They were kept in detention, chained, and brutally beaten every day. The kidnappers were negotiating with a trafficker in Tripoli and after agreeing on a price of USD 2,700 per person, they were gradually released and sent to Tripoli in batches. Shishay was one of the last to go. He was suffering severely at the hands of the kidnappers with morning and evening beating sessions, "like breakfast and dinner".
In Tripoli, things did not become any better. Shishay and his group were detained by traffickers in a big hall where sadistic guards were having fun beating and humiliating them.
One day the prisoners managed to break down the doors and everybody fled out in the street. Shishay had the misfortune to be among those who were caught and brought back to the warehouse. His friend who had been his travel companion was shot dead by the traffickers.
Finally, his smuggler paid for his release and arranged for him to board a boat to Italy. The wooden fishing boat was carrying some 700 persons. After several hours they were spotted by the Italian Coast Guard and rescued. Shishay went from Italy to Germany, where he was registered as a refugee. He is now hoping that his wife and two children would be able to reunite with him in Germany.