Selam's story
18 year old Selam started her irregular journey in 2015 after having lived in Sudan for five years. She had left Eritrea in 2010 to move to Khartoum, Sudan, where she was living with her mother and siblings.
Life proved to be difficult in Sudan. The government was cracking down on people who didn't have legal permits, which made it difficult for Selam to work or study. Out of fear of being arrested, she decided to leave without informing her parents.
Selam had no idea what the journey had in store for her. "I didn't have any information about anything," she says. "I just simply left with some people I knew."
The journey, by truck, to the Libyan border was incident free. Once at the border, Selam and the others were moved to smaller trucks which made the rest of the journey uncomfortable due to overcrowding. The 28 to 30 people on board additionally shared space with the oil the truck was transporting, which spilled on their bodies and made them itchy.
At one point along the journey through Libya, a chase ensued between their trucks and some people they assumed to be traffickers. As a result, the truck carrying Selam nearly lost balance and her leg got injured.
It took a week to reach Tripoli, including rest stops along the route. At one of the rest stops, Selam and her fellow passengers were informed that the driver was unwell. He had accidentally consumed petrol, which he had mistaken for water, and needed to be taken to the nearest hospital.
In the evening, Selam and the other women were separated from the men and kept in a room without a door, while the men were locked in a separate room located far away from them. In the evening, two Libyan men walked into their room looking for beautiful women who were light skinned.
"We used to hear stories that they choose beautiful women, but I never believed it until I witnessed it," Selam reflects.
Much to Selam's horror, she was selected together with another woman. She thought she was about to experience one of her worst fears.
"I used to hear about human trafficking, that they sell people, but I never believed it," she says, "I just thought it was a lie and an attempt to keep us from going to Europe. We understood from the situation that we were going to be trafficked."
Watch Selam talk about her experience in Libya and reflect about her journey to Europe.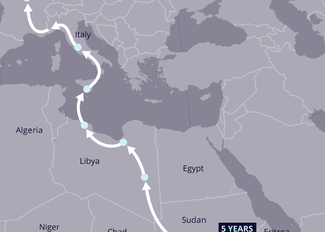 Selam and the other refugees were later transported to a transit location where they were subjected to beatings whenever they made the slightest noise, since the smugglers were afraid of being detected by police in the area.
On the night of departure by boat, Selam and approximately 350 other people boarded a boat. Women were placed on the upper deck, men were placed on the lower deck. A Somali man among the refugees was put in charge of navigating the boat. A few minutes after departure, the boat broke down and they couldn't move any more.
After a few hours, a Libyan vessel found them drifting.
"The Libyan navy came with bigger vessel. They aimed a gun towards us and asked to whom, [which trafficker], we belonged. We replied saying that we are hajis," Selam says.  The occupants of the Libyan vessel then provided them with an extra motor belt before pointing them in the right direction.
They soon learned that the problem with the boat mainly had to do with the boat's engine. And once more, they found themselves adrift.
Selam and the other people on board had been told that the journey across the sea would only take them four hours. Seventeen hours later, they ran out of food and water. Their mobile phone batteries were dead so they could not reach anybody. Everyone was scared. Some people got sea sick and started vomiting. After two days and two nights on the Mediterranean, a passing vessel rescued them. They were taken aboard and travelled with them for three days and three nights. During this time, they were not provided with any food.
By the time Selam reached Europe, she had spent 4,500 USD on her entire journey.
Through discussions with friends on Facebook, Selam decided to proceed to England. "My friends on Facebook told me that England is better because one has better educational opportunities. Besides, I can work while studying." She says hopefully.
Europe did not turn out to be the place Selam expected. She faced hardship crossing European boarders where she was sometimes beaten.
At the time of this interview, Selam was in Calais hoping to one day be able to cross over to The UK.
"I am not sure I can say that I have achieved my dream," she says. "I might feel better once I've reached my destination. But now, I am not happy."
Share this:
Have a similar experience?