Lwam's story
16 year old Lwam began her irregular journey in July 2014.
Many of the students from Lwam's school had already left the country and she found it difficult to concentrate knowing that her friends were gone. Her mother was particularly worried when Lwam left for school, worried that she would not come back at the end of the day, worried that she would cross the border.
"Every time I told my mother that my friends had left, she would tell me to calm down and concentrate on my studies," Lwam recalls. "When she saw anyone from our school, she would immediately ask about my whereabouts, " she adds.
Hoping to dissuade her from taking the journey, Lwam's father promised to deposit money into her bank account and buy her a laptop. He told her of the dangers of the desert and tried to convince her that it would be better to stay in Eritrea and get married.
Occasionally, Lwam confided in her brother. She'd tell him of her plans, and even ask him to leave with her. These conversations often evolved into fights between the two of them, and once, when Lwam attempted to leave, her brother succeeded in intercepting her.
Nothing her family could do or say would change Lwam's determination to leave, however. Her mind was made up. One day, when away on a visit to her grandmother—who had also tried to discourage her from taking the journey—Lwam departed for Ethiopia without her parent's knowledge.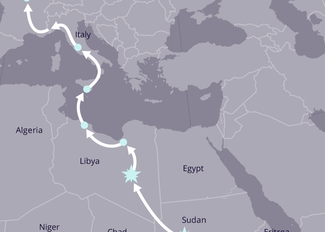 In Ethiopia, Lwam was taken to a refugee camp called Adi Harush. An aunt living in the area offered to take her in. Her days there were spent collecting food rations from the camp and working at her aunt's café. After four months, she was contacted by smugglers who asked if she wanted to go to Europe. She immediately made the decision to leave since she felt she did not have a chance for resettlement, even though she had never contacted UNHCR regarding this.
"When all my friends had left, I just wanted to go," Lwam says. "Those who had lived [at the refugee camp] for more than five or ten years or who had a family were the ones trying for the legal option [resettlement]. But not after being there a few months—as a newcomer, you are only given a daily ration of food, accommodation, and nothing more."
"I didn't try approaching UNHCR or taking a legal route," Lwam adds.  "I hadn't thought about it."
Through the assistance of an uncle who was living in Israel, Lwam paid 1,500 USD to the smugglers, who took her across the border to Sudan. Once in Sudan, Lwam, together with eight other men embarked on a five hour trek in the rain before getting picked up by trucks.
This leg of the journey was daunting. She had heard of women getting molested and raped in Sudan, in addition to many other terrible things. "We heard stories of how they pick women and make them fulfill their desires in the front seat of the truck," she says.
Upon arrival in the town of Al Hajer in Sudan, Lwam located her cousin who said he would introduce her to a relative who was a smuggler and could assist her. She felt a sense of relief believing that she would  finally get the assistance she needed to continue with her journey.
Unfortunately, the relative, who was an uncle, turned out to be manipulative, abusive, and full of false promises.
Watch Lwam recount the mistreatment she received at the hands of her uncle.
Eventually, after four months, Lwam's father sent her the money she needed to continue her journey onwards to Libya.
The journey to Libya was difficult. Lwam, together with 14 others, were involved in three accidents because the driver was drunk and driving too fast. Lwam was left with what seemed to be internal injuries around her neck, back, and ears. She was unable to seek medical assistance for fear of being of being arrested or killed.
During this time, she thought a lot about her parents and the warnings they had given. There was nothing she could do now, she was already too far along the journey and could only move forward. "I regret it. I wish I had stayed with my mother and started a family," she says. "It has been contrary to my expectations. But what can I do, I have made the decision and started the journey already."
At the time of this interview, Lwam was in Calais, France, hoping that one day she would succeed in crossing over to the United Kingdom.
Share this:
Have a similar experience?