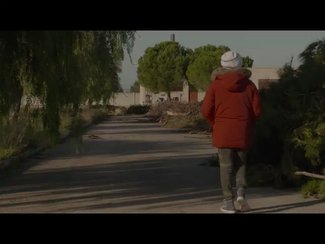 Judith's Story: Haunted by smugglers' black magic
Judith was a teenager when her family in Nigeria was hard pressed by a violent man they owed money to. He threatened to kill the children of the family if he didn't get back his money. Alternatively, if they wouldn't pay, as compensation he demanded that Judith would marry him when she came of age.
Judith was very unhappy and was thinking of how to escape this fate when a friend of hers told her that she could go to Europe to work and that way pay off the debt. She could easily get a job as nanny or cleaner.
The friend put her in contact with a broker who promised to arrange the journey but under the condition that she gave an oath not to run away with the money she was going to earn. She had to give it to the broker until her expenses for the journey were paid off.
"He then took me to a village in Benin where I took an oath. During this process, they took my panties, they collected hair from my private parts, from my armpits, and from the back of my head. They gave me alligator pepper and something to eat. They asked me to swear that if I get to where I was going, start working and then run off with the woman's money or run away from work, then the oath I took would kill me."
She was assured by everyone that she would get a job immediately upon arrival and that many other girls had taken the oath and were doing fine, earning good money in Europe. Shortly afterwards she departed for Libya. It was a difficult trip. First, she and her fellow travellers had to cross the border to Niger on motor bikes that were driving very fast through the bush to escape the border police.
They fell off many times and had to be quick to get on the bike again because the drivers were very impatient. In Agadez, they were loaded on pickup trucks and drove through the desert for five days. It was very tiring, and Judith says she only survived by the grace of God.  In Libya they were put into a holding place where smugglers would abuse people, especially women and girls.
"When we were there people would come and take girls away. I started praying to God asking that they wouldn't select me and if they do, my life will be over, I will be dead. You can't refuse them because they always come with sticks and guns and they point at you with their guns. Every day we were really beaten. It was hell on earth for us. I cried and asked myself what kind of horrible journey I had got myself into." 
She was finally released from this horrible place and tried to cross the sea to Europe. It was only on the third attempt that she managed to reach Italy. The first time, the rubber dinghy got a puncture and had to return and the second time there blew up a storm. Another boat travelling beside them capsized and sank and all on board perished.
Judith had been told by the broker that she had to repay the expenses to someone in Italy who was going to arrange a job for her. When she arrived in the reception centre in Italy, she told a woman she met there that she was going to get a good job, but the woman was not impressed.
"She said it was a lie and that there aren't any good jobs here. The only job here is prostitution. I told her about the agreement with the woman and about the oath I took. My personal things are still with them but if I finish my payment to her, I can call anyone in my family to go and collect my panties, my hair and everything that was collected from me. If I don't pay this woman there will be repercussions as a result of the oath I took. I might go mad or so many bad things could happen to me."
The woman told her that she shouldn't believe in this nonsense, it was all a trap to ensnare her into prostitution. Upon reflection, Judith understood that she was right, and decided not to contact the person who was supposed to find a job for her.
Judith is now living in Italy, waiting for a decision on her future status. When her friends in Nigeria ask her how she is doing she says she is OK but warns them to keep away from people who promise them a good job in Europe, because they are lying.