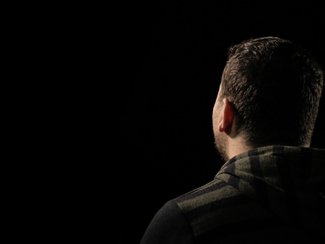 Homam: Into the terrifying unknown
Homam fled his home in Syria in 2013 after the war made life impossible for him and his family to stay. He spent five years in Lebanon before he started to feel his family were treated as second-class citizens there. He heard that the treatment would be better in Europe, so he decided to head to Egypt to cross the sea from there. As they flew from Beirut to Khartoum he felt he was on the cusp of finding place where he could lead a better, more dignified life than the one he had fled.
"You'll realise a dream, you have an incentive and a motive. You're going to Beirut airport to achieve something. I took my kids and told them to have patience, we'd achieve something."
What he was beginning instead was a journey full of suffering. It was when they landed in Khartoum, on New Year's Eve, that the reality of the journey ahead began to dawn on Homam. He realised he was stepping into the unknown – his wife and children in tow – and began to feel afraid. It was winter, the city was cold and dark and he had nightmares about the journey going wrong. Yet he knew he couldn't return to Lebanon again and had no choice but to go through with the agreement he had made with the smuggler.
"Where was I taking these children? We were going into the unknown. I started to get nightmares and thoughts that the car was falling off a cliff, but I didn't have a choice. It was too late. As they say, my old life was behind me and there was no turning back. I couldn't go back to Lebanon as they wouldn't let me in again as a Syrian. Also, I'd already paid the money so I couldn't retreat anymore."
They were taken one night to an empty house where they would be picked up for the drive into the desert. Next they were bundled into a van, whose blacked-out windows prevented them seeing where they were being driven to. The next thing they knew, they stopped. They were hurried out of the van and shouted at to grab their things and get into another pickup waiting for them, fast. A terrifying journey at breakneck speed carried them on through the desert towards Egypt until they arrived in Aswan. Homam still carries the psychological effects of the journey with him, and every New Year remembers what he put his family through to taken them to safety.