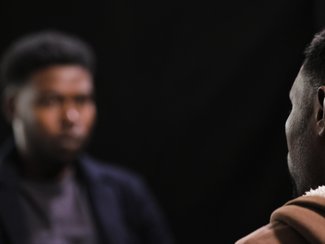 Ali, Osman, Abdelhamid: "Don't dump bodies here!"
Three young men from Sudan are sitting in a refugee reception centre in Malta discussing the dangerous journey they made through Libya and across the sea. Ali, Osman, and Abdelhamid wanted to go to Europe and all of them took the route through Libya, but from different directions. One of them came through Egypt, the others straight from Sudan. They ended up in Kufra in southeastern Libya, the centre for human smuggling and trafficking. From there, they were sent to a holding camp in Bani Walid near the coast. Conditions there were horrible.
"Women and girls die of diseases or lack of food. They are also being raped, anything is possible there. If you die, there are no burials. In BaniWalid, there are writings on the walls saying, Don't dump bodies here!"
The smugglers were unspeakably brutal. Osman witnessed how one smuggler started arguing with a man on the beach when they were about to embark on the boat. The smuggler shot him in the head and killed him. Abdelhamid was detained in a place where three people were tortured to death because they could not pay.
"There's also a room in the hideout where they torture people who can't pay the ransom. They beat you, use electricity and pour cold water on you"
The three friends are concerned that other young people like them will embark on the same dangerous journey. The smugglers are telling lies to seduce people to go with them.The main problem is to manage to convince young people back home that the horrors of the journey are real. People don't believe you or think you are exaggerating. Nevertheless, our three Sudanese friends are sending an earnest message: this journey means danger and death.