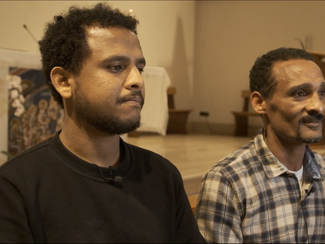 'Change starts with you'
The University Corridors for Refugees (UNICORE) programme offers scholarships to refugees, allowing them to travel legally to study in Europe. For Eritrean refugees, Tesfay and Gezae, the scholarships are a lifeline that means a brighter future is now within their grasp.
After being selected by the programme that is backed by UNHCR, the UN Refugee Agency and the Italian government, and promoted by 32 Italian universities, the two men are studying for master's degrees at the University of Bari Aldo Moro, in southern Italy.
It is an opportunity they assumed would be out of reach for refugees like themselves. "They brought us here for education, they covered every expense," says Gezae, grateful for UNICORE's support. "Even though we are refugees we are also human beings. The only difference is the situation we are facing."
And they are aware of how fortunate they were to be selected for the scholarship because so many of their fellow refugee students were not chosen due to the limited number of places available. "Many could have been helped if there were other organisations with the same programme," says Gezae.
"Only a few of us are here," adds Tesfay. "The majority are still there."
Before fleeing repression in Eritrea, Tesfay was a physics teacher, a job that he believes "means sharing what you know with others, improving together," but after earning his master's degree in computer science he hopes to find an alternative path to helping others. "I'd love to apply at the ground level what I've learned in class, and to serve the community," he says.
Gezae is studying computer sciences, but his ambitions are similar. "Change starts from you," he says, adding that the scholarship has "paved the way" for him.
While embracing the opportunity to study in Italy, they say the separation from friends and family is tough, especially for Tesfay who has a wife and young daughter in Ethiopia, but they both maintain that the sacrifice is worth it.
"It is hard," says Gezae, "but we will see the advantages for ourselves and our families."
Tesfay agrees "sacrifice is a must" in the pursuit of a better future. "There are ups and downs, but in the end, you will reach your goal." For him, the goal is to help himself, his family, and his country, by furthering his education and giving back to his community. "This was my dream," he says, but it nearly did not come true.
At times while living as a refugee in Ethiopia, Tesfay had grown so frustrated with his situation that he considered trying to reach Europe illegally by paying smugglers to take him across the Sahara and the Mediterranean.
Tesfay had friends who had tried, and some had made it, but others had suffered or perished on the way, and in the end that knowledge made him think twice. "The lucky ones reached Europe, and the unlucky ones drowned or died in Libya," he says.
"I chose to wait in patience for the legal way, rather than going irregularly, and I got lucky."
ENDS