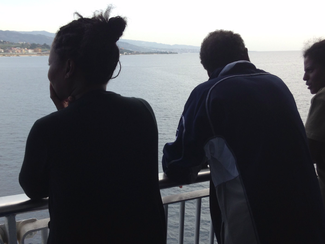 Rahel's Story: For My Children
Share this:
Have a similar experience?
In 2012 Rahel left Eritrea for Sudan, where she lived for four years working menial jobs to raise money for the journey. She lived on the bare minimum and struggled to make ends meet. In 2014, with a one year old child and another one on the way, she decided to embark on the infamous, arduous journey through the Sahara to the Mediterranean.
The journey proved particularly strenuous for her, with her pregnancy and the daily struggle of  keeping her one year old alive with the limited supplies of water and food.
"We ran out of food, and I regretted coming," she recalls. "My firstborn couldn't walk then. Sometimes I wished the patrols would find us and end our suffering. I was dropping water into his throat to keep him alive," she adds, her voice breaking. "
In addition to the day-to-day endeavor of staying alive, Rahel faced the daunting fear of being sexually harassed by the traffickers. Yet there was a far greater fear,  one which even plagued the traffickers: running into ISIS.
Luckily, mother and son survived the journey both in Libya and at sea where she was rescued.
Listen to her story here:
Share this:
Have a similar experience?