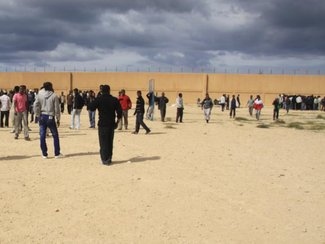 Osman's terrible memories of Libya
Share this:
Have a similar experience?
Osman was only a minor when he embarked on the journey to Europe. Through the facilitation of smugglers, he made it to Libya where he experience a number of difficulties.
"It was a hopeless life with no expectations of happy ending," he says. "The only way out was to die."
In Libya, he was repeatedly detained by smugglers and Libyan authorities in different locations where he witnessed fellow Somali's being raped and tortured.
"While we were waiting to travel to Italy we stayed in prison. The life was terrible," he says. "Somali girls were raped and men were tortured. You had to perform tough work for the smugglers, "he adds.
Osman attempted to take the journey at sea twice, the first attempt saw their boat being intercepted by Libyans resulting into their imprisonment.  After a successful second attempt, Osman together with the other refugees and asylum seekers got to Italy from where he travelled onwards to Sweden.
"We crossed several countries and finally arrived in Sweden. I applied asylum and I felt for the first time kindness," Osman says.
Share this:
Have a similar experience?