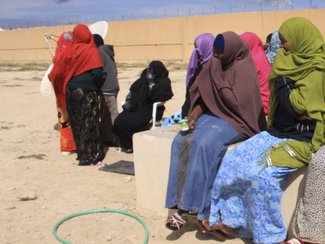 Muno's uncertain future
Muno is in her early twenties and she underwent a lot of unexpected hardships during her journey to Europe. For eight days, together with other refugees and would be asylum seekers, she travelled through the Sahara desert in Libya with limited food and water. During this time, she witnessed people die of hunger and thirst and the rest were subjected to all kinds of abuse and torture.
"We lost 3 people, then we met the trafficker; it is hard to talk about how they treated the females," she recalls. "It was a difficult time that I can't just sum-up."
"I saw everything, it is not something you can describe in few words. There were also elderly ladies that were tortured and treated badly." She adds.
"I was there for one month and I was told that there were no boats. It was very hot and there was no water. There were a lot people, you would see them in the evening and in morning they were dead." She says.
"I saw some being buried with theirs shoes, I even recall one instance where a dead body was lying on the ground and the men started taking the dates he had on him and there were other dead bodies too. I find it so hard to even to talk about it."
Today Muno is in Sweden, still awaiting her asylum decision.
"The situation in Europe has gotten worse; we don't know what the future has in store for us here," she says. "It still feels like we are in the boat, questioning if we are going to make it or not? This is the situation we find ourselves in. Not knowing if we will have a future here or not."