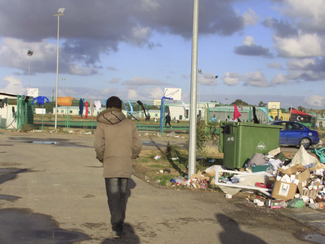 Mohammed's story: A piece of nothing
"Ever since the journey I keep asking myself, was it worth it? If my life had been lost in one of these ordeals, Allah would have held me accountable," laments Mohammed, an Eritrean refugee living in Germany.
Mohammed lived in Sudan for several years, initially staying in a refugee camp before leaving for Khartoum in search of livelihood opportunities. Despite not having formal authorization as a refugee to seek employment, he succeeded in finding menial work in a vehicle repair garage.
Life in Khartoum quickly became difficult for Mohammed. He was constantly afraid of being discovered by the authorities. He ultimately made the decision to try and make it to Europe like the many other refugees before him, even though he'd heard stories about the risks involved.
"You hear people saying, 'So and so reached Tripoli in six days then reached Italy…' and so on," he says. "Some of them told us it was difficult, but I didn't believe them. If so and so made it, then why not me?"
Through the assistance of smugglers, and with the little money he'd saved, Mohammed left Sudan in a crammed truck with dozens of others like himself. Once in the desert, the smugglers turned on them, beating them for no reason. A plastic cover was placed over them to keep them hidden from border patrol.
"They put a plastic tarp over us and tied us up like a cargo," he says. "We couldn't move an inch, we were almost dying."
After making it across the border Mohammed had to rely on fellow Eritreans for assistance, having used up all his meagre savings on the first leg of the journey. Refugees who were able to get money transferred to the traffickers were released to continue to the Libyan coastal city of Tripoli. Mohammed, however, was left behind with those who were unable to pay.
Eventually, through the assistance of friends in Sudan, Mohammed had enough money to pay for his journey to Benghazi, from where he was smuggled into Tripoli inside a container truck.
Once in Tripoli, Mohammed boarded a rickety old boat— contrary to what the trafficker had promised—along with 350 other desperate refugees and migrants.
"The ship was not as big as the trafficker said it would be,"Mohammed recalls. "They told us we would make it in seven hours but it took us 12 long hours."