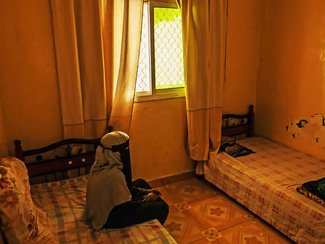 The girl with the burning scars
Share this:
Have a similar experience?
Ladan, along with five other Somalis, decided to travel to Greece from Egypt with the help of human smugglers. But the journey at sea quickly turned into a nightmare for both her and the other refugees and migrants on the ship.
"On the third day something terrible happened," Ladan recalls. "There was gunfire outside… and suddenly we heard an explosion, 'boom.' There was fire, smoke, and flames everywhere."
As Ladan and the others attempted to escape, they found themselves caught in the middle of an explosion and rapidly spreading flames. Many of those who were severely burnt jumped into the sea— unable to swim, but desperate to put an end to the burning pain. Other's just stood there transfixed, too afraid of drowning in the sea.
Luckily a ship came to their rescue resulting into everyone jumping into the water and grasp for the life vests and rope that led to safety.
"I was wearing a jacket, and as I was trying to take it off I saw that my hands were seriously burnt," Ladan recalls. "I looked to the other Somalis to see if they could help me, and that was when I noticed they were all burnt and could barely move their hands. We all jumped in the sea and tried to grab the rope— you can imagine how that was, with our hands burned."
The survivors were moved to another ship, then immediately rushed to hospital. Ladan remembers the ambulance and what felt like the longest ride of her life. Arriving at the hospital, she was asked to take her clothes off and they immediately started treating her. That was the last thing she remembered.
"When I woke up I saw that my entire body was burnt," Ladan recalls. "I couldn't move or talk and there was a some kind of plastic thing in my throat… After four months I left the hospital with severe fire burns. My wounds were not yet healed, but I could talk and move around."
Following her release from the hospital, Ladan was placed in a camp.  She was asked whether she had any family or relatives in Europe whom she could be reunited with. But she didn't.  And as Ladan faced the reality of her situation, she quickly realised that all the tales she'd heard about Europe were far from reality.
"In my world, Europe was a paradise," Ladan says. "But it didn't turn out to be what I had in mind…  It was when I came here that I realised I was just a refugee. I felt alone without any family. I was much happier in my own country. There I had my family around me. Here I have no one. I am all alone."
To this day, Ladan has undergone several medical procedures and her wounds are yet to heal. She says that it's getting better, but she is still in pain.
Listen to Ladan talk about her journey.
Share this:
Have a similar experience?