Abdi was 17 when he embarked on his irregular journey in 2014.
He felt the need to leave Somalia due to what he describes as a difficult situation—living in a war-torn area. Abdi left on his own, leaving his family behind, with an aim of getting to Europe. Despite allowing him to embark on the journey, Abdi's family was oblivious of the dangers associated with it.
"To get in touch with a human smuggler in Somalia is easy because there are so many who deal with these things," Abdi says.
Through the assistance of smugglers, he succeeded in crossing the border into Ethiopia and thereafter Sudan, and finally into Libya.
Abdi had heard of all kinds of atrocities that befall people traveling through Libya.
"Many people have had their body harvested there. They would take out their kidneys and other organs," he says. "There are many bandits there, but thank goodness I did not fall victim to them. But I did fall into the hands of brutal Libyan smugglers."
Despite feeling lucky not to have encountered some of the brutalities he had heard of, Abdi's journey through Libya proved much more difficult than expected.
"One day they kept us under the baking sun. It was so hot that even birds would fall from the sky. Due to that extreme heat some of my mates suffered strokes," Abdi says.
Listen to Abdi talk about his experience in Libya
On the night that Abdi and a group of 80 migrants and refugees were to cross over to Europe, they were placed on an inflatable boat — one which was inflated right in front of them.
"Then the Libyan smuggler told us to drive the boat 4 hours in this direction, then another 4 hours in that direction, and then we would be in Europe," Abdi says.
The boat journey, which they thought would only take a few hours, ended up taking three days. The group had been given a compass, which they were told was programmed to direct them to Malta, and a mobile phone with a pre-paid card. On the third day at sea, they attempted to call for help using the mobile phone, but it was to no avail.
"There was no one coming to our aid," he says. "We were floating with no target and just waiting to perish."
Eventually, the Maltese came to their aid. Initially the Maltese authorities offered to provide them with fuel to enable them to continue onwards to Italy, with the pretext that the refugee boat was seaworthy and Malta was already overcrowded. However, after some time, the refugees and migrants managed to persuade the authorities to take them in.
Once in Malta, Abdi and everybody on his boat were taken to a detention center. There Abdi applied for asylum as a minor, and was eventually released from the center. Despite being granted asylum, Abdi was not provided with a resident permit since in order to obtain one he needed to be 18 years or older.
Life in Malta felt too difficult for Abdi to endure, and he decided to leave with the aim of reaching Norway. Through the assistance of a smuggler, Abdi boarded a plane bound for Norway via Sweden. Unfortunately, while on transit in Sweden Abdi was detained.
Today Abdi lives in Sweden and still has not succeeded in tracking down his family back in Somalia, who have since moved away from the area he lived. Abdi's asylum case is currently pending, therefore he is living in limbo.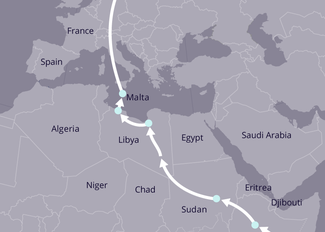 Europe has turned out to be a far cry from what he had expected.
Not having a resident permit has made Abdi's life challenging since he is unable to do much. His days are spent either going to Swedish classes or playing football, and sometimes he has nothing to do. He is constantly worried about his mother and five siblings in Somalia, and most of all he is worried about his future, which seems bleak. He does not know whether or not he will be granted asylum in Sweden and has been informed by the authorities that deportation to Somalia would be considered as an option.
"My life today is best described by the Somali proverb – Yesterday is always better than today," Abdi says. "Sometimes I regret that I made the decision to come to Europe so quickly. It is a lesson for me."
Share this:
Have a similar experience?